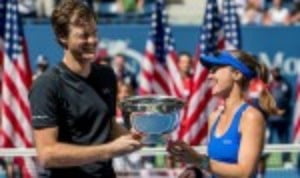 Doubles delight for Murray & Hingis
Originally published on 09/09/17 00:00
The top seeds defeated Michael Venus and Hao-Ching Chan 6-1 4-6 (10-8) to extend their winning run and bag their second Grand Slam title in succession.
Murray is the first British man to win a mixed title in New York since 1968 and Hingis, who will be involved in the women's doubles final on Sunday, is now a 24-time major champion.
The top seeds eased to the opener however their opponents responded well in the second set and two breaks of the Murray serve earned them a match tiebreak.
The shootout proved to be a fitting finale to an entertaining contest. All four competitors raised their level and the sparse crowd inside Arthur Ashe Stadium marvelled at the exquisite volleying on display.
The teams could barely be separated however it was the top seeds who carved open a first match-point on their opponent's delivery. A piercing backhand fired down the line from Hingis enabled Murray to leap into action and he sealed victory with a smart forehand volley.
20 years after winning the singles title in the Big Apple as a 16-year-old, Hingis said: "I just love the game. We just started playing at Wimbledon and won right away. Jamie is a great partner to have and he has been carrying me well. You saw his wingspan at the end."
Murray, who is now a five-time Grand Slam champion, added: "She [Martina] is an amazing player and had such a great career. It's been a lot of fun. We have played a lot of good tennis this week, won through a lot of close matches, as Martina said. I think we won three times 10-8, so it just shows how fine the margins are in mixed-doubles in the format we play."