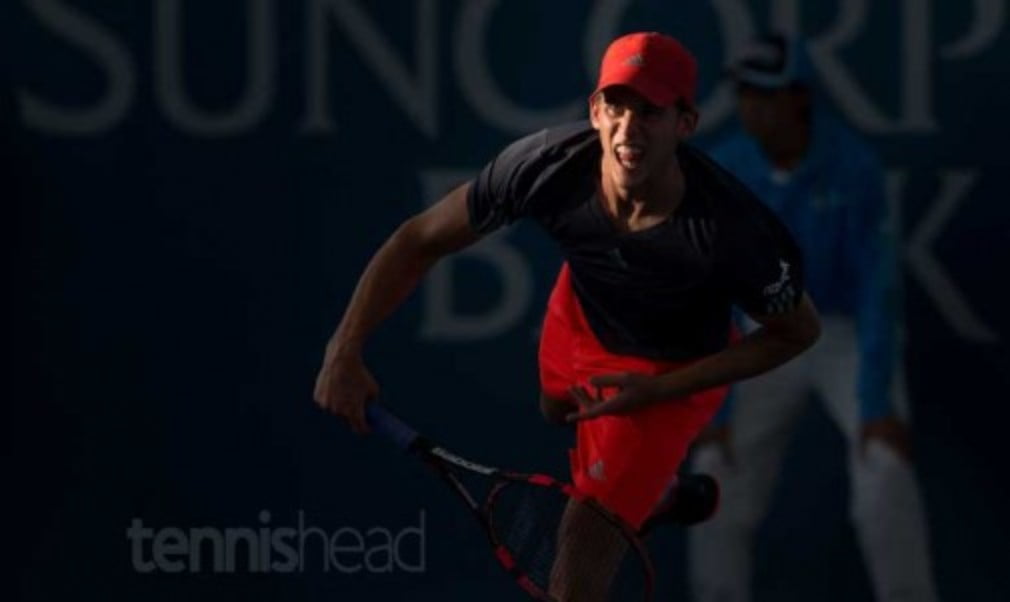 Dominic Thiem
Originally published on 26/04/16 00:00
1 Austria's No.1 currently resides in Lichtenwörth, a small market town in Lower Austria, about 60km south of Vienna. Given its tiny population of just over 2000 inhabitants, we're assuming Thiem is probably the highest profile celebrity in the village when he's at home. His birth town of Wiener Neustadt lies just 8km down the road, too.

2 Thiem's idol growing up was the man he has replaced on most of Austria's tennis billboards, Jürgen Melzer. The 34-year-old has won five singles and 13 doubles titles in his career, and reached a career high ranking of 8 in April 2011. The young pretender will be hoping to eclipse his countryman's record at the majors however, as save for one semi-final, Melzer never made it past the fourth round.

3 Thiem was probably in good hands growing up, as both Mum Karin and Dad Wolfgang are professional tennis coaches, helping to nurture their son's development from the moment he picked up a racket for the first time aged six. And as far as tennis and the Thiem family are concerned, it doesn't stop there.

4 Thiem's younger brother Moritz, 16, also harbours hopes of a career on the Tour. The world No.15 said in an interview earlier this year that Moritz was already making 'great steps' in his journey up the junior ladder.

5 The Austrian's girlfriend, Romana, currently lives and works in Tirol. Despite confessing to missing her a lot on Tour, Thiem said she had flown out to some tournaments earlier this year and always tries to get up in the early hours to watch his matches, while balancing life working for Riedel Glas, a wine glass company.
6 Thiem is known to his friends and some of his fellow pros on Tour as the 'Dominator'. That one probably didn't take long to come up with. Not bad, though.

7 Despite being surrounded by such delights as Schnitzel and a variety of different types of sausage in his homeland, Thiem has taken a strong liking to Sushi, and lists the Japanese delicacy as his favourite.
8 The Austrian Premier League is far from Europe's strongest, so it's perhaps understandable that Thiem pledges his allegiance further afield. Rather surprisingly though, the 22-year-old is reportedly an avid Chelsea fan, and has even appeared on the club website in full Blues kit.

9 Thiem's opening match on the ATP Tour came in 2011 when he was granted a wildcard entry to the 250 event in Kitzbühel. He picked up his first win on Tour at the Vienna Open months later, beating Thomas Muster.

10 Thiem's place as Austria's top tennis talent will probably be secure for a while yet (though we hear his brother is working on displacing him). He currently sits 97 places and nearly 2,000 points clear of Austria's No.2 Gerald Melzer- the younger sibling of idol Jürgen.
11 At 22, it's probably too early to judge the young Austrian on his results at the Slams, but after his start to 2016 he'll definitely have the desire to build on his best major result to date, a fourth round berth at the 2014 US Open.

12 Those in Austria may have started to dream of Davis Cup glory when Thiem climbed the rankings last year, but it took the young protégé until his fifth attempt to win a singles rubber, which came against Portugal in March 2016.

13 To date Thiem has won five ATP Tour titles since the start of last year, with four of them coming on clay. It is little wonder the Austrian lists this as his favourite surface. His only non-clay victory was his most recent, however, in Acapulco in February.

14 In 2011, Thiem won the Orange Bowl, following in the footsteps of Federer, Roddick, Soderling and Baghdatis in the process. Most telling of all, is that the Austrian is the only one of the last seven winners of the prestigious junior tournament to go on to break into the top 100 in the ATP rankings.

15 It is still compulsory in Austria for all able-bodied citizens up to 35 years old to undertake military service – even if you are a tennis superstar. Thiem chose to get his state duty out of the way as quickly as possible between November 2014 and April 2015 and somehow managed to not miss any tournaments in doing so.