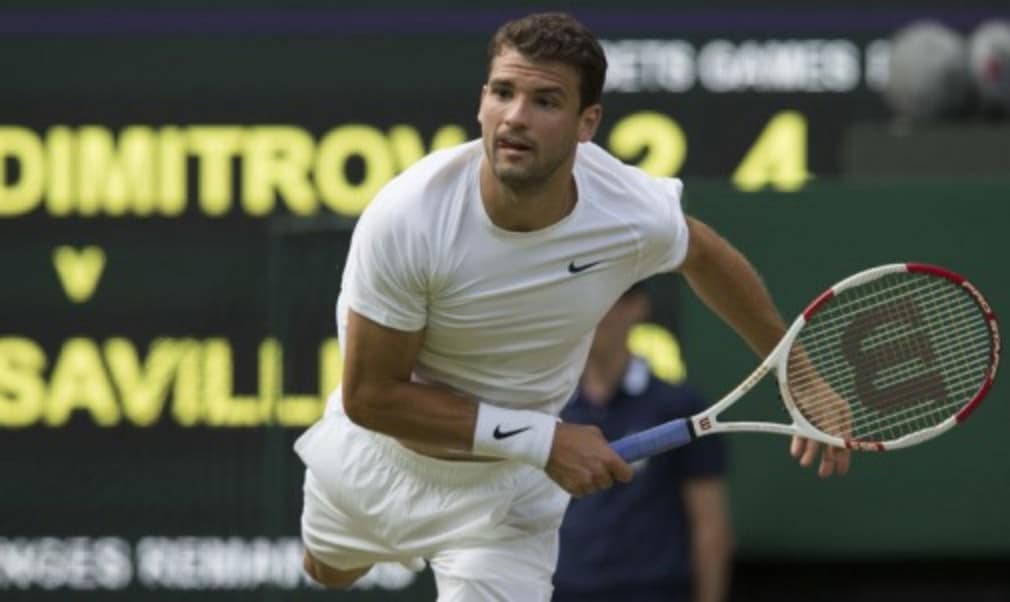 Dolgopolov: Pressure is on Dimitrov to break through
Originally published on 26/06/14
The meeting between the 21st seed and the 12th seed is likely to be one of the standout ties of the round, with both players having started the tournament positively. Dolgopolov powered down 42 aces to beat Benjamin Becker 6-7(4) 7-6(0) 6-3 6-4 in the second round while Dimitrov saw off fellow former junior Wimbledon champion Luke Saville 6-3 6-2 6-4.
It is the first time the Bulgarian has reached the third round at SW19 but he has already won three titles this year – including at Queen's – and looks as though he could be the first from the younger generation to break through at a Slam.
"Grigor is a great player, he has had a good season and I think the pressure is on him," said Dolgopolov. "His people are waiting for him to make the big breakthrough and he won the grass court event in Queen's. For me there is not going to be a problem on the court, I am playing aggressive and I am happy with how I played my two matches [so far].
"I think the pressure is going to be on him – he is higher ranked than me and he is playing more solid than me so I am just going to come out and play my best game and try my best and see how it goes."
Dolgopolov, 25, has never made it past the third round at Wimbledon and was also forced to withdraw from a meeting with Dimitrov at Queen's due to injury.
"I was injured for a week but I think I am playing well," he said. "I don't have too many expectations which helps me play a little bit. I'm enjoying myself and I am hungry to play, hungry to win and we will see how I go."
The Ukrainian will have to be at his best if he is to trouble Dimitrov, who has been one of the standout players of the year so far. He has won titles in Acapulco, Bucharest and Queen's, reached the quarter-finals of the Australian Open and also climbed up to a career-high No.12 in the world last month.
"I don't need to fear anyone," said the 22-year-old after his win over Saville. "I always focus on my game. I know what to expect from my opponent [Dolgopolov]. Obviously I've played against him a couple of times, to me it's nothing new. I don't want to get out of my way because it's a different opponent or he's talented or anything like that. I think a lot of players out there are talented. We all know how he can play and compete. I think I'm just focusing on my game at the moment."
Aside from the Australian Open earlier this year, Dimitrov has never made it into the second week of a Slam before. Only once, at the French Open last year, has he even made it past the second round. But he believes it won't be long before one of the younger generation makes their mark at a major, with the domination of the top four forcing them all to raise their games.
"I think it pushes you to the limits of your work," he said. "I know we all want to break through, especially the younger generation, we all want to push through those Slams and start winning a few, which I believe is around the corner for any one of us. Of course, it's not the easiest thing to see but I think at the same time it pushes you to work harder and to appreciate things in a different way. I got to take each match at a time. Especially nowadays I think the level of everyone is quite high, everyone is playing a great tennis."