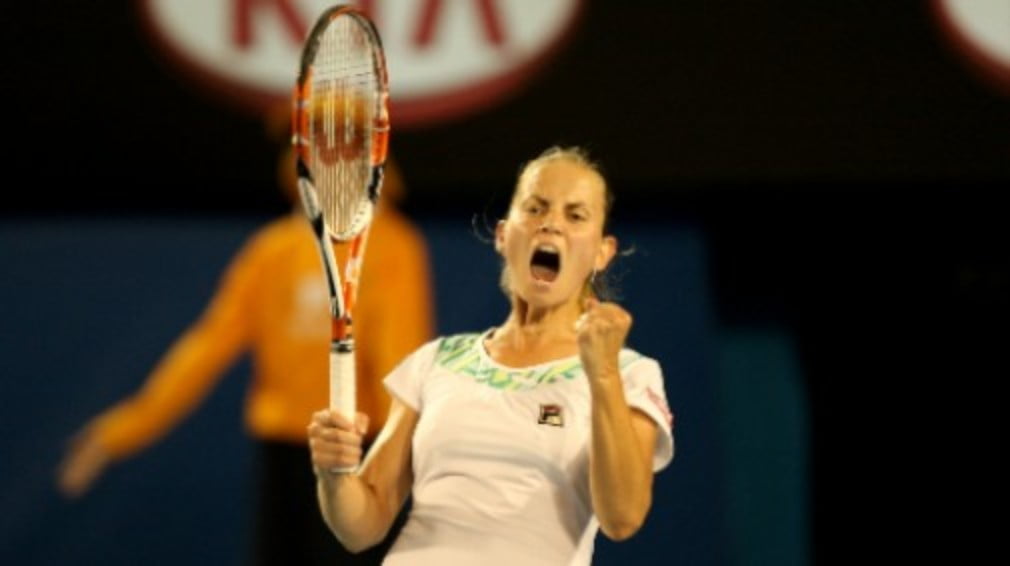 Dokic defeats the Dane
Originally published on 26/02/10 11:24
In one hour and 43 minutes Jelena Dokic defeated the Dane Caroline Wozniacki 3-6, 6-1, 6-2 in yet another womens upset in the evening session on Rod Laver Arena. Wozniacki looked like she was cruising in the first set but then some hard hitting and some good serving allowed the wild card to claw her way back.
The third set started with a trade of serves and then at 2-2 Dokic did not allow Wozniacki another game, finishing it off in emphatic style at 9.30pm local time.
It was very much a case of home advantage. The crowd was unsurprisingly noisy in their support of both players, while Wozniacki, who normally commands such support from the crowd, looked a bit frustrated on the court.
It was Aussie Aussie Aussie all the way, and when Alicia Molik came on court for the post match interview the first thing she did before she asked a question was to give the comeback kid a cuddle. Then there was a five-minute exchange when Jelena Dokic was encouraged to thank Tournament Director Craig Tiley, Tennis Australia and all of Australia for helping her back in her tennis career. Dokic even apologised for being a pain in the past. I think shes been forgiven, as Alicia said, Australia is proud of you.
In the press conference afterwards Wozniacki was gracious in defeat, admitting that Dokic had played well and that when playing in front of an Australian crowd she expected this kind of support. The Dane acknowledged again that Dokic had played better than her today.
The 25-year-old Serbian born Dokic meets the winner of the finely balanced match between Alisa Kleybonaova and Ana Ivanovic.