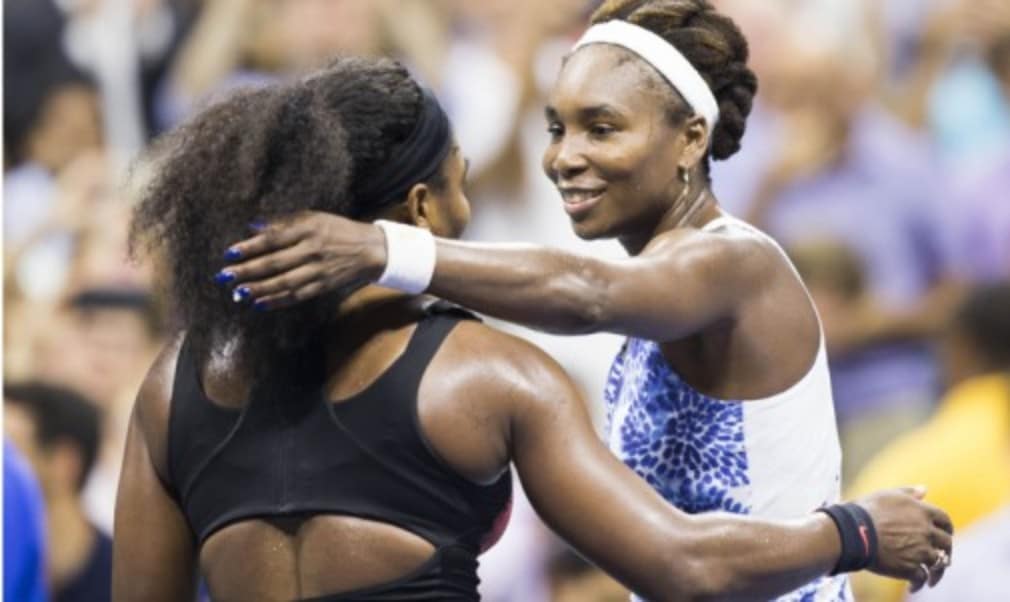 Does anyone compare to Venus? Only Steffi, says Serena
Originally published on 09/09/15
"I have played a lot of great players like Lindsay and Jennifer and Martina and Kim and Justine. I have had a lot of losses against those players, as well. They just didn't have, they didn't know my game and they just didn't beat me as many times as Venus has."
Serena's record now stands at 16-11 against Venus after a 6-2 1-6 6-3 victory in the most eagerly anticipated Grand Slam quarter-final of modern times. A strong start and clinical finish saw the world No.1 past her sister, who capitalised on a nervy display in the second set to level the match.
But in front of a star-studded crowd that featured the likes of Kim Kardashian and Donald Trump, Serena regrouped to fend off a Venus onslaught in the opening game of the decider before breaking with three outstanding backhands. With that, she held her nerve, delivering an ace on her first match point.
"Holding serve in the third set was huge," admitted Serena, who faces the unseeded Roberta Vinci in the Italian's first Grand Slam semi-final. "She came out blasting and I was defending a lot. She has so much power so it was tough."
Perhaps the only player who could compare to Venus in Serena's eyes is the woman whose records she hopes emulate by winning this US Open.
"When you're young and going against Steffi Graf, I mean, that, I think, pretty much sums it up," said Williams, bidding to tie Graf's 22-major haul and complete the first Grand Slam since 1988.
"It's been a really long time since I have played her, but I just do remember her having an unbelievable forehand. I think her backhand was amazing, too, because she had that really good slice. She was very athletic and very fast. She did a lot of things really well."
As for Venus, whose runs to the last eight in Melbourne and New York make this her best year at the majors since 2010, there is one thing she will always have over Serena. "I will always be the older sister," she joked. "That's never going to change."
Better late than never for Cilic and Djokovic
As if to ramp up the anticipation of the Williams showdown, Marin Cilic's five-set win over Jo-Wilfried Tsonga pushed the start back but almost 90 minutes. The defending champion survived a spirited fightback from the Frenchman to win 6-4 6-4 3-6 6-7(3) 6-4 in a minute shy of four hours.
Cilic appeared to be in total control as Tsonga, nursing a knee injury, struggled to stem the flow of unforced errors. But after receiving some treatment he fought his way back into the match, surviving match points in the fourth set to push it into a decider.
"He just hit the ball a little bit more properly than me at the right moment and that was a huge difference at the end," Tsonga said, having come up just short in the fifth. "He just made it…he just made it."
With the three preceding matches on Ashe all going the distance, Novak Djokovic and Feliciano Lopez did not get on court until after 10.30pm. The top seed was in no mood to waste time and raced away with the opening set, but was visibly annoyed after dropping serve early in the second.
"Just frustrating when you play one sloppy service game in the beginning," Djokovic said. "I just didn't want to lose the concentration, and unfortunately it happened.
"It's a sport of small margins, especially on the high level – one or two points can really change the course of the match."
Lopez refused to let him back into the second but slipped up early in the third to fall a set behind again. In the fourth he simply refused to budge, keeping himself ahead on the scoreboard but failing to capitalise on his chances against the Djokovic serve. In the breaker the Serb produced two devastating returns to secure a double mini-break from which he never looked back.
Djokovic will play Cilic in Friday's semi-final.
"I'm sure he's gonna try to be aggressive, going to try to take his chances," Djokovic said. "That's how he won last year US Open. I watched him play. He played great. Best tennis of his life.
"This is where he loves playing. He loves the conditions on Arthur Ashe. As I said, I'm going to try to use that advantage and having success against him in the past and to my favour."
Quote of the day
"I am proud that I managed, even in very big difficulty and struggle, to not listen to me and stay positive and just try to fight till the end." Kristina Mladenovic, battling heat exhaustion and cramp in her first Grand Slam quarter-final, pushed Roberta Vinci as hard as she could before falling 6-3 5-7 6-4.
Wednesday's action
Petra Kvitova vs Flavia Pennetta
With one Italian thirty-something in the semi-finals already, Pennetta will bid to make it two against Kvitova, who declared that she finally loves New York after breaking her fourth-round hoodoo against Johanna Konta.
Victoria Azarenka vs Simona Halep
Don't ask Azarenka about Serena Williams, the Belarusian has insisted – not until she is done with her next two opponents. Halep, another first-time quarter-finalist at Flushing Meadows, toughed out her win over Sabine Lisicki with a thigh strain and may find her serve and movement hampered.
Stan Wawrinka vs Kevin Anderson
The last man to knock out Andy Murray before the quarters in New York faces the man who ended his 18-slam run of reaching the last eight. Just how much the effort of that four-set win took out of Anderson remains to be seen, but the adrenaline of playing his first Grand Slam quarter-final will no doubt help.
Richard Gasquet vs Roger Federer
Federer said he expects a different Gasquet to their previous encounters, given his recent surge in form. But the 17-time major champion is in fine fettle himself – and as if you needed more motivation to watch, there's always the SABR…