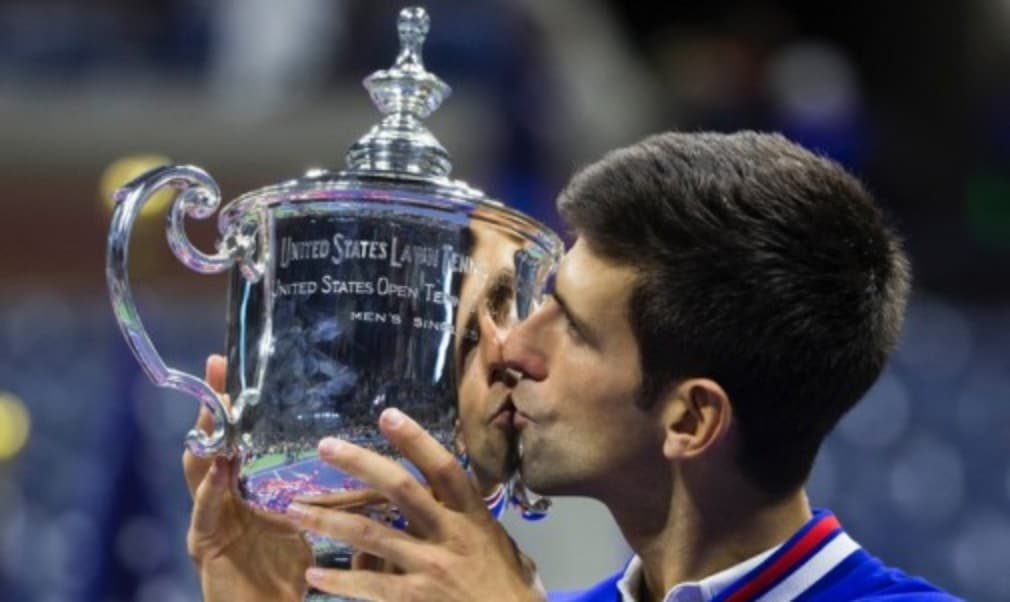 Djokovic withstands Federer to win US Open
Originally published on 14/09/15
When the final forehand landed long Novak Djokovic turned to his box, the one corner of Arthur Ashe Stadium he could count on. He roared a Serbian roar before being lifted off his feet and into the stands, enveloped by the coterie for a series of warm embraces, saving the longest for his wife Jelena.
Among the band of brothers was the Scottish actor Gerard Butler. "We know each other for several years and we are good friends," Djokovic said. "He happened to be in the city the last couple of days, so I invited him to come.
"Funnily enough, I actually sent him a photo and a message last night – I was watching '300' movie. When I went to my box, when I embraced all my family and team, I looked at him I said, 'This is Sparta!'
"It felt great," he added. "That's one of the most inspiring movies I've watched."
That corner of the world's largest court felt like Sparta, the small, unconquerable terrain that hosted everything the world No.1 held dear while all around it brayed for the invasion. Djokovic beat Roger Federer – and Arthur Ashe, for good measure – 6-4 5-7 6-4 6-4 for his 10th Grand Slam title. He is just the eighth player of the Open era to break double digits.
Not that New York cared. They were here for the return of Roger, the five-time former champion playing his first final since 2009, an unthinkable six-year absence. And they were here with hope: Federer arrived unbeaten since Wimbledon, on a run of 28 unanswered sets – 10 that had carried him to the Cincinnati title and 18 to US Open final. Through six matches in New York he had dropped serve just twice, both to Philipp Kohlschreiber. And, of course, he had SABR.
Djokovic's early path to the final had been a little more fraught, in his mind if not on the scoreboard. He danced with the t-shirt guy after his second-round stroll against Andreas Haider-Maurer, but the rest of the journey was pockmarked with crushed rackets, terse interview responses and dropped second sets against Spaniards Roberto Bautista-Agut and Feliciano Lopez. In the semi-finals he steamrolled past Marin Cilic, the injured defending champion, for the loss of just three games – a ruthless display. He was battle-ready.
Aptly, the last US Open final played at the mercy of the elements was delayed by rain. Three hours after the intended afternoon start, the world No. 1 and No. 2 emerged from the depths of Ashe to warm up in dusk and play under a chilly night sky.
It didn't take long for matters to heat up. Djokovic immediately had Federer defending an onslaught, saving three break points in the opening game as the 17-time Grand Slam champion's serve, the rock in his latest rejuvenation, faltered. He escaped once but not a second time, and while the Swiss capitalised when Djokovic grazed his elbow and knee during a heavy fall at 2-1, another break followed at 3-3 and the set was gone.
The first serve was key. Without it, Federer lost the fulcrum of his quickfire strategy, a tactical and physical necessity against the evergreen Djokovic. And, in the second set, the first serve returned.
At 4-5 and the Swiss a game from the set, the floodgates opened, both on court and off. On the concrete Federer smelt blood, stepping in to attack Djokovic's serve at 30-30, following in and unleashing a smash right at the Serb, who blocked it back at such pace all Federer could do was drop it into the tramlines. But the assault was only just beginning. Seven deuces, two of them set points, came and went before Djokovic held.
The game lasted 15 minutes, and while it didn't immediately bring Federer the set it brought him the crowd. Memories of 2005, when Andre Agassi faced Federer in the final, abounded. This time however, the crowd were unabashedly his; they erupted when he clinched his fourth set point with a crisp cross-court backhand two games later.
And so it went. They traded breaks early on in the third, but at 3-4 Federer found himself on the verge of a tangible lead. Djokovic, sullen-eyed, allowed a 40-0 lead to evaporate as Federer fashioned two break points. Both were lost to forehands; the first his own, netted, the second his opponent's, channelled past him for a winner.
The missed chance deflated both the crowd and Federer, who flinched from 40-15 to fall a break back at the wrong time. Djokovic held firm, leaving left Federer and New York twice as far from the title as the Spartan.
Pressure absorbed, Djokovic grew in the fourth. He began making Federer look his 34 years in the third hour of the match, breaking in the opening game and again in game seven to lead 5-2. The end was in sight but Federer refused to go quietly, lifting his fans to their feet one more time with a break to stay in the hunt. He might have clinched another, but Djokovic produced some clutch serves when it mattered; of 23 the break points he faced, he saved 19, 11 off his second delivery.
The last three, in the last game, damned Federer to defeat. While their 42-match rivalry has always been as close as the 21-match split suggests, brinksmanship had been a feature of their five meetings in New York. In every one, Federer has held match point, yet Djokovic had two previous wins.
There would be no fated fightback this time. Federer netted a forehand and then, on Djokovic's first championship point, his return looped long.
It is now three full seasons since Federer won his last of 17 majors at Wimbledon, but the 34-year-old has arguably never looked closer to 18. During the trophy ceremony, he added one last thing: "I'll see you next year." Relief magnified after Pennetta's shock announcement after her victory on Saturday.
"It was a tough night, but still, I don't know, thrilling at the same time," Federer said. "I am very disappointed. I had my chances on my racquet. I should never been down in the score the way I was. But Novak did a great job of fending them off, and, you know, all of that.
"There is a just a letdown and disappointment that I couldn't push it 5-5, and then who knows what happens? I should have never been down in the first place two sets to one and 5-2. That was a bummer there."
Djokovic joins Bill Tilden on 10, a major behind Laver and Borg, though it seems only a matter of when he will he pass them. He ends the Grand Slam season with 27 wins from a maximum 28 matches; Roland Garros still eludes him, but by the numbers the season ranks above Serena Williams' calendar slam quest, and his own 2011 benchmark.
"I feel more fulfilled," Djokovic said, contrasting his two standout seasons. "I feel more complete as a player today than I was in 2011: physically stronger, mentally more experienced, and tougher as well.
"I was ready for it, I was ready for the battle. That's what it was: three hours, 20 minutes. We pushed each other to the limit, as we always do.
"It's an ultimate challenge that I can have now winning against Roger back to back finals in Wimbledon and here, US Open. It's tremendous. I'm really, really proud of it."