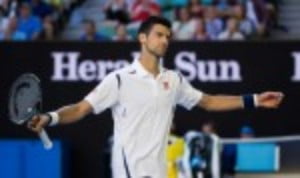 Djokovic wins sixth Australian Open crown
Originally published on 31/01/16 00:00
In a rematch of last year's final, the world No.1 won 6-1 7-5 7-6(3) to equal Roy Emerson's record of six titles in Melbourne and match Rod Laver and Bjorn Borg's tally of 11 Grand Slam crowns.
"Every Grand Slam title is very significant in its own way," said Djokovic. "Here, I managed to make history tonight and equal Roy Emerson's six Australian Open titles. I'm very honored to be mentioned alongside legends of our sport by Bjorn Borg, Rod Laver, win as many Grand Slams as they did.
"I can't lie and say I didn't think about it. Of course it was in back of my mind. Coming into the court I knew that I have a chance to make the history. Of course it served as a great motivation, as a great imperative to play my best."
After a dominant first set by Djokovic, Murray was the aggressor for most of the second set, but failed to take his chances as a fifth final in Melbourne finished with a fifth runner-up trophy.
In the end, 65 unforced errors proved his undoing as Djokovic improved his head-to-head record against Murray to 22 wins from 31 meetings.
"He won 25 or 26 more points than me," observed Murray. "I had 25 or 26 more unforced errors."
The gulf between the world's best player and the rest of the field was no more evident than in the first set as Djokovic was at his devastating best, powering through the opening set for the loss of just one game against the world No.2, as he had against Roger Federer in the first two sets in the semi-finals.
After a break point passed him by in the opening game, Murray gifted Djokovic a 2-0 lead with a double fault before the Serb consolidated his advantage with a love service hold. A double break put Djokovic firmly in control as the Serb rattled through the opening set in 30 minutes.
"I was very aggressive and just played the way I wanted to play against him, and executed the game plan perfectly for a set and a half," said Djokovic.
The second set was a different story altogether, although the ending was ultimately the same. In 30 previous meetings Murray had never beaten Djokovic from a set down, but after weathering the storm and saving four break points to keep himself ahead at 2-1, Murray had chances to break but almost inevitably was broken in the very next game.
With the match threatening to run away from Murray, the Scot broke back with a glorious cross-court backhand winner that kissed the outside of the line. By this stage it was Murray who was dictating the rallies, but too many times his shots found the net or sailed long. But a late break put Djokovic back in the driving seat, and despite two double faults, Djokovic served out the set after an hour and 20 minutes.
"I thought I maybe could have done better in my service games when I was up a break both sets, second and third, but credit to him for fighting and showing why he's one of the best in the world," said Djokovic. "He definitely made me work. There were a lot of long rallies, long exchanges. We were both breathing heavily towards the end of the second and the third set. But that's what you expect."
Murray's upward climb became even steeper when he was broken in the first game of the third set, but with the match slipping from his grasp, the two-time Grand Slam champion appeared to hit his strokes with more freedom, and he was rewarded for some positive play with a break to level at 3-3.
But ultimately Djokovic proved too strong, as two double faults for Murray in the tiebreak proved critical as Djokovic wrapped up a straight sets victory.
"I feel like I've been here before," said Murray, who also lost to Djokovic in the 2011, 2013 and 2015 Australian Open finals. "Congratulations Novak – six Australian Opens is an incredible feat. The last year has been incredible.
"I'd like to thank my team for getting me to this position. Sorry I couldn't get it done. Thanks for all your support during a tough few weeks off court. And finally, to Kim, my wife, who is going to be watching at home. You've been a legend. I'll be on the next flight home."