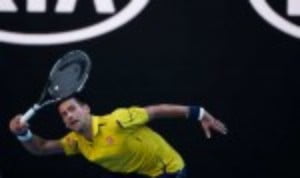 Djokovic survives Simon scare to progress
Originally published on 24/01/16 00:00
The world No.1 needed four hours and 32 minutes to defeat the Frenchman 6-3 6-7(1) 6-4 4-6 6-3 on Rod Laver Arena to reach a 27th consecutive Grand Slam quarter-final, equalling Jimmy Connor's streak, second only to Roger Federer's record of 36.
Djokovic, who was virtually unstoppable in 2015, was some way off his best against Simon, converting just six of 25 break point chances as Simon, camped out behind the baseline disrupted Djokovic's rhythm and forced the Serb to try a series of unsuccessful dropshots.
"I think one of my strengths is I don't really fear [the top players]. I just see them as humans and tennis players," said Simon. "They are fantastic and they can play amazing tennis, but they still have some weaknesses on the court. I just try to use it and keep it simple.
"I had a plan. We all know how hard it is to find any solution against [Djokovic], to somehow stop the fight and feel better on the court. I think it worked well today. He made 100 unforced errors. That's a good number for me, not for him."
Simon broke Djokovic's serve for a fourth time when the top seed served for the match at 5-1, but he was unable to stave off defeat as Djokovic extended his head-to-head record to 10 wins from 11 meetings. The last time Simon beat Djokovic was in 2008.
"I was obviously pleased to win the match," said Djokovic, who will now face No.7 seed Kei Nishikori, a 6-4 6-2 6-4 winner against Jo-Wilfried Tsonga. "The last point counts. But in terms of the performance itself, I haven't done well at all. You can expect unforced errors when you're playing Gilles Simon who is one of the best counter-punchers in the tour at the moment and he's been around for many years.
"He likes to play long matches. He likes to play long rallies. But I knew what was expecting me on the court. But I honestly didn't expect to make this many unforced errors. In terms of a level that I've played, it's the match to forget for me. When you're playing that bad and still manage to win — hopefully it's going to be better next one."