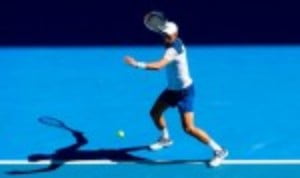 Djokovic sees off Monfils
Originally published on 18/01/18 00:00
The former world No.1 racked up a 15th consecutive victory over Gael Monfils as he advanced into the third round of the Australian Open for an 11th time.
It took the Serbian 2 hours and 45 minutes of hard graft to defeat his French rival 4-6 6-3 6-1 6-3.
It was an eagerly anticipated match-up between two high-class players, however the stifling heat negatively impacted the quality on display.
Monfils really struggled to cope in the unforgiving conditions, and at one stage it was unclear whether he would complete the match.
The contest did go the distance, but for a long spell in the middle the Frenchman was barely competitive as he wilted in the heat. He rallied in the fourth set, but Djokovic extinguished any hopes of a stirring comeback.
It was predominantly a war of attrition, but there was the occasional flash of brilliance to keep the viewer intrigued.
Djokovic was always in control after a sketchy first set, but his second serve was suspect and he committed 11 double-faults. "It was obvious that we both suffered on the court today," said the 30-year-old post-match.
"The conditions were brutal, especially for the first hour and a half. I came into the match knowing it was going to be a big challenge. Gael is one of the best athletes in our sport and moves around so well.
"I was just trying to hang in there and use every opportunity presented. Obviously Gael wasn't at his best at the end of the second and through the third set, but the fourth could have gone either way.
"Obviously it's still not a 100 per cent but it's building," he added, when asked about his troublesome elbow. "I have a lot of faith and self-belief, and I know what I'm capable of."
Elsewhere on the grounds on day four, Julien Benneteau stunned David Goffin 1-6 7-6(5) 6-1 7-6(4), Tomas Berdych pushed past Guillermo-Garcia Lopez 6-3 2-6 6-2 6-3 and Dominic Thiem won an epic five-setter with Denis Kudla.