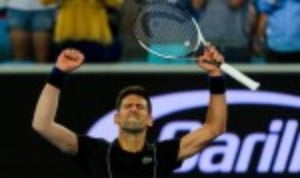 Djokovic plays down injury fears
Originally published on 20/01/18 00:00
It was yet another impressive performance from the world No.1, but he did require medical attention in the second set – and it was not for his troublesome right elbow.
The 30-year-old recieved treatment for a hip problem, but it did not impact his display, and he does not seem overly concerned about the issue.
"It's nothing major," said the Serbian. "I knew I wanted to use the medical timeout because I needed it, but at the same time, I knew it was nothing major that can potentially raise a question mark regarding whether I can continue playing or not."
Djokovic believes niggling injuries have to be expected after such a lengthy spell on the sidelines, and feels it will take time for his body to readjust to the rigorous demands of top-flight action.
"I haven't played for six months. We have to take that in consideration," he added.
"I played a long match against Gael (Monfils) a few days ago. It's not happened too many times in my career that I have maybe had some tension in the muscles or, some kind of physical challenges.
"These kind of circumstances in which I am in at the moment are quite different. I've never faced a situation where I didn't compete for six months. That's why I'm kind of forced to be very cautious of what happens day-to-day, be dedicated to my body and training."
Djokovic would have perhaps expected to face the No.4 seed, Alexander Zverev, on Monday, however the German's Grand Slam woes have continued.
A top class display from Hyeon Chung ended Zverev's interest in the competition, and the Korean is into the last sixteen for the first time after five punishing and pulsating sets.
"I'm looking forward to the next challenge," said Djokovic. "Chung, who has just had a big win, is someone that is very disciplined – one of the NextGen. He won in Milan last year. He's playing great. He's fit. He doesn't have too many holes in his game.
"He's a very nice guy and you can see he's a hard-worker. It pays-off."