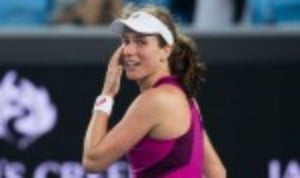 Djokovic hungrier than ever
Originally published on 01/02/16 00:00
The world No.1 won his 11th Grand Slam title on Sunday with a straight-sets victory over Andy Murray in the final at Melbourne Park. Djokovic has won four or the last five majors, and ten Grand Slam titles since the start of 2011.
His dominance over the last 12 months – he has reached the final of every tournament he entered since last year's Australian Open and won 13 titles since the start of last season – has seen him extend his dominance over the rest of the field.
But after joining two of the sport's greats, Rod Laver and Bjorn Borg, on 11 Grand Slam titles, Djokovic insists he must not think about his current dominance in order to remain hungry.
"I don't want to allow myself to be in that frame of mind," said Djokovic. "Because if I do, the person becomes too arrogant and thinks that he's a higher being or better than everybody else. You can get a big slap from karma very soon. I don't want that.
"I try to still follow the same kind of lifestyle and routine, things that I've been doing all these years that have been helping me to get to where I am. Of course staying respectful to all my opponents and my colleagues and to this sport is a key to continue on and maintain this level of success and performance. This is kind of approach to help me to get to where I am. I don't want to step away from it.
"It [has been] many years of obviously commitment, hard work, sacrifice and dedication, not just to training sessions, you know, the things that you are obliged to do as a tennis player, but also to a lifestyle. Trying to devote most of your time, energy, thought to make yourself the best person and the best player possible."
Djokovic, who can complete a career Grand Slam if he wins the French Open, will also have one eye on this summer's Olympic Games in Rio, where he will attempt to add Olympic gold to his already impressive list of honours. Victory in Cincinnati would also see him become the first man to complete a sweep of all nine Masters 1000 events.
But despite a gap of almost 8000 points between him and world No.2 Murray, the Serb believes he must work even harder to remain at the top of the rankings
"I heard a nice metaphor yesterday," said Djokovic. The wolf that is going uphill and running up the mountain is hungrier than the wolf standing on the hill. All the guys that are out there fighting each week to get to No.1 are very hungry to get to No. 1, and I know that.
"I can't allow myself to relax and enjoy myself [for] more than a few days. After that I already thinking about how can I continue on playing well throughout the rest of the season each tournament.
This is the kind of mindset that one needs to have if one wants to stay up there. Because I think you need to work double as hard when you're up there."