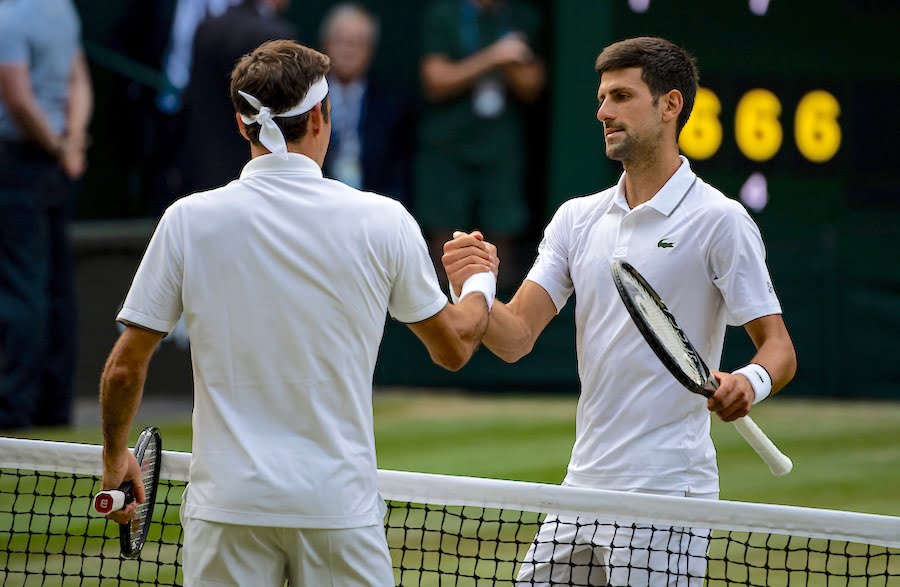 Djokovic & Federer buy into new tennis ratings system. Can Universal Tennis Rating succeed where others are failing?
Currently the Association of Tennis Professionals ranks Novak Djokovic as the World's best tennis player. However, according to a rankings list now being used in more than 200 countries, Rafa Nadal is on top. tennishead looks at the Universal Tennis Rating which count Novak Djokovic and Roger Federer as investors.
It has often been said that the scoring system in tennis is what makes the sport so intriguing: the fact that until the final point is won, the outcome of the match is never certain. Take Rafael Nadal's defeat to Nick Kyrgios in Acapulco February 2019, a match the Spaniard lost despite winning 10 more points, creating 10 break points to one and having three consecutive match points.
If the scoring system is close to perfect, the systems that rank players are less so. The ATP and WTA tours rank players based on their performances over a rolling 52-week period, awarding points only when players win matches, according to the round they reach and weighted according to the level of event. In a recent opinion piece for tennishead, an industry expert when into great detail as to why we need to adopt one system.
Today, however, there is a new kid on the block: the Universal Tennis Rating, a system which is quickly taking hold around the tennis world. The UTR takes into account the strength of the opponent and the score (games won), not the result. So even though losing 7-6 in the final set is still going to be painful, in UTR terms the losing player gets some reward for pushing a good player close.
The Universal Tennis Rating uses a 16-point scale (1 through to 16.50) to rate players according to their past 30 matches, from the top professionals right down to amateurs and recreational players. It uses data from more than 10 million matches played by more than a million players in more than 200 countries.
A look at the current UTR world rankings makes interesting reading. At the time of writing Novak Djokovic, who is the ATP world No 1, is only second on the UTR, with a score of 16.13, and Nadal (ATP No 2), is top with 16.26. However, the ATP No 12, Juan Martin del Potro, is down at joint fifth on the UTR list alongside Marin Cilic, who is at No 11 on the ATP rankings.
In the women's game, Serena Williams is ranked 10th on the WTA list, largely because she has played only 10 events in the past year. However, she is ranked No 1 in the UTR rankings, having reached the final at Wimbledon and the US Open. Naomi Osaka, the WTA No 1, is ranked No 5 on the UTR. The pros also have a three-month trending ranking, designed to be even more indicative of recent form.
As an alternative to the well-established ranking systems used by the ATP and WTA tours, the UTR can sit happily alongside, rather than replace them. The ITF's new World Tennis Tour – or Transition Tour as the recently-revamped stepping stone to the main tour is sometimes known – also uses a different points system.
The Universal Tennis Rating is already used by colleges in the United States for selection purposes. Outside of professional tennis, it is fast becoming the go-to system to rank players all over the world. In Britain the Progress Tour is a group of events run using the UTR, while Tennis Australia signed on as an investor and major strategic partner in January. Team 8, a management group part-owned by Roger Federer, is an investor, as is Djokovic, who said he felt the UTR would "improve the ecosystem". The Tennis Channel uses UTR extensively in its broadcasts.
Powered by Oracle, the UTR has partnered with more than 50 different groups in tennis, ranging from players to federations and academies, including Nadal's academy, IMG, the Good to Great academy in Sweden and Kim Clijsters' academy in Belgium. They all use and endorse the UTR, while Universal Tennis gives them the technology – for free – to run their own events and support their coaches and players.
Though the UTR was founded in 2008, it has been in the last 12 months that it has seen a massive increase in numbers, helped by a number of investors. "We're now just beginning the initiative to bridge down into local tennis, recreational tennis," Mark Leschly, the chairman and CEO of Universal Tennis, told tennishead. "Our goal is to ultimately figure out…there are 100 million people who play tennis in the world. Can we possibly rate them all? Wouldn't it be wonderful if everyone was rated and we can create level-based play? People can bridge across gender, across age, across geography.
"What we've now begun to roll out are the next pieces of a tournament management system, as well as what we call an engagement platform, which is really the ability, once you know your rating, you can start participating in events, you can start creating a profile for yourself, start connecting with friends and start to engage around the world of tennis using technology, which until today people just haven't had the ability to do."
In time, the UTR may become the tennis equivalent of a golf handicap – something everyone has and can use to play against similarly ranked players and to judge their standard, not just among their peers, but also around the world. At the moment, different countries use different ranking systems; accurately seeding players from overseas, or, in the US, from different states, can be difficult.
While the top professionals receive a "verified UTR" according to their results on tour, anyone, at any level, can get a rating. The more matches played, the more reliable and accurate the Universal Tennis Rating becomes.
"Any score where you have at least four games for one of the players, that's a score that's eligible and counts in our calculus, because, remember, we look at games won or lost, not match wins," Leschly said. "So if you play a set with your friend and you post a score of 6-4, you can do that and what you'll be able to do is develop a rating for yourself that sits on the international scale. Now, like golf, you can sandbag [play worse than usual to get a lower rating] if you want, but people will discover that pretty quickly because you're going to play against other players. You're not going to play against a course.
"The tournament software and the event platform allows us to do any kind of format. We're seeing a huge explosion in the US in clubs right now. Suddenly they're getting all these young kids and adults rated and now they're seeing four-to-five-fold increases in participation in clubs, because they're so excited, they're rated, they play across age and gender now, they do different formats, they don't have to do this long-winded structure."
The UTR could also be of use in countries which do not have the same kind of resources as the Grand Slam nations. In South Africa, for example, where the federation has almost no funds to help send junior players overseas, staging more UTR events at home would allow them to judge the standard of their players against those in other nations, without the cost, both financial and environmental, of flying them around the world.
Though the British governing body of tennis, the LTA, sends results from its players to be included in the UTR, so far it has been reluctant to join forces. In the past 30 years, the British ratings system has changed a number of times and the LTA has just announced it is working with the International Tennis Federation on another new global ratings system called the World Tennis Number. You an learn more here.
Leschly hopes to work with the LTA in future. "At this point, we continue to rate their players – we're offering a free service there – but I think there's so much more we could do for UK tennis and I hope we have the opportunity to do that. We're here, we're a tool. There's nothing we've ever done or want to do to undermine federations. Federations are fundamental to support tennis in the various nations. We're not trying to lock anyone out, we're not asking for exclusivity. This is a free market. We want to democratize tennis.
"If people want to work with us, great. Almost all of our technology is free and we just want to drive huge adoption. Our business model long term is: Hey, if people want to use this platform, there's benefit for them. Maybe somewhere along the line we can up-sell them something of incremental benefit. It's a freemium model, there's no Trojan horse, we're regulatory compliant. All of this stuff is about opt-ins."
The current UTR Top 10 rankings for me and women look like this: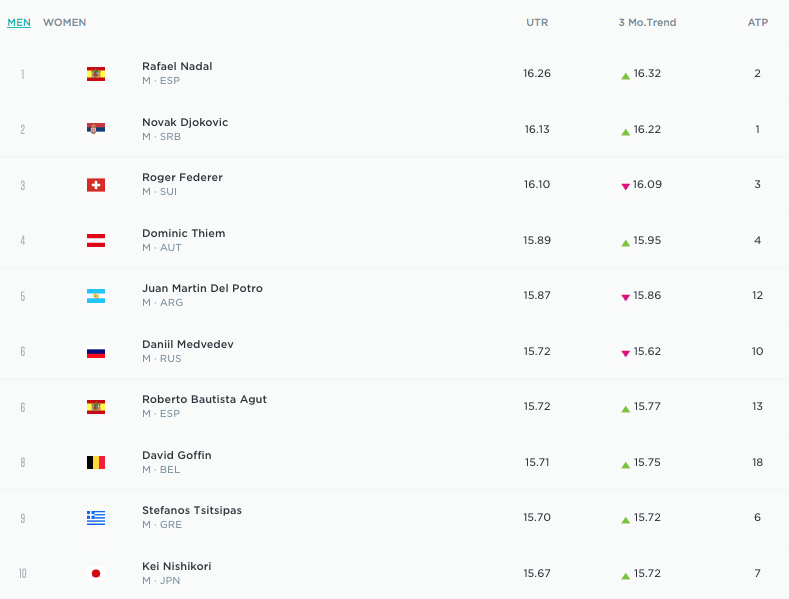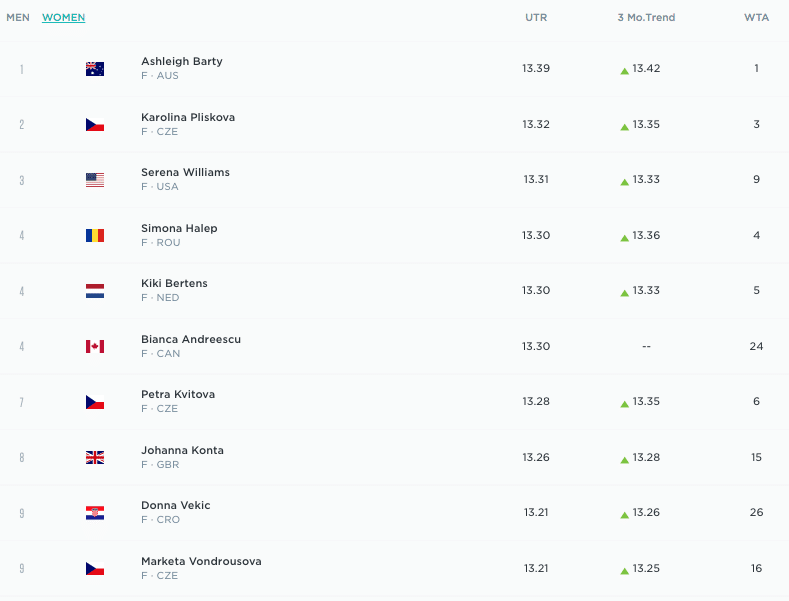 Look ahead to the rest of 2019 with our guides to every tournament on the ATP Tour and the WTA Tour. If you can't visit the tournaments you love then do the next best thing and read our guide on how to watch all the ATP Tour matches on television in 2019. To read more amazing articles like this you can explore Tennishead magazine here or you can subscribe for free to our email newsletter here