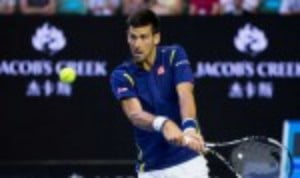 Djokovic dismisses Nishikori to set Federer showdown
Originally published on 26/01/16 00:00
Federer defeated Tomas Berdych 7-6(4) 6-2 6-4 before Djokovic dispatched Kei Nishikori 6-3 6-2 6-4 to reach his 29th Grand Slam final.
"Playing Roger in a Grand Slam feels like a final because of the fact that we are big rivals and we played against each other so many times," said Djokovic. "There's a lot of tension. There's a lot at stake. I'm expecting a great fight in two days."
Nishikori had upset Djokovic in the US Open semi-finals in 2014 but failed to push the world No.1 in Melbourne, winning just nine games as he dropped his serve six times and appeared to struggle with a leg injury.
After being pushed to five sets by Gilles Simon in the fourth round on Sunday, Djokovic revealed that he skipped his training session on Monday in order to recover ahead of his quarter-final.
"Less is more sometimes," said Djokovic. "You need to recognise the moment. I've played a lot of tennis – maybe even too much. There was no concern for me that I would not feel the ball today. It was about getting recovery – physically, mentally – just being able to step out on the court today feeling fresh and having that intensity."
Despite a potentially tricky draw, Federer has reached the last four for the loss of just one set, in the third round against Grigor Dimitrov, and despite going down an early break against Berdych never looked in trouble against the Czech No.6 seed.
Berdych had upset Rafael Nadal in last year's quarter-finals and had beaten Federer in their most recent Grand Slam meeting – in the last eight at the 2012 US Open – but Federer soon took control of the match after winning a tight opening set on a tiebreak.
The Swiss broke twice in the second set and despite going a break down in the third, quickly bounced back to secure victory in straight sets and reach a 12th Australian Open semi-final in 13 years.
"The first set was tough," said Federer. "It was definitely the key to the rest of the match because I think maybe it might've taken some energy out of Tomas. If not physical, also mental. It's always tough to lose the first set in best-of-five in a breaker.
"I wish maybe I didn't get broken. But at the same time Tomas was pushing for it, he was looking for it. He's got a lot of power. So I was happy that on both occasions I [was broken] I was able to react quickly."
"When you break him and then you lose your serve right after, that's definitely not going to help," said Berdych. "He was playing really, really aggressive, without any mistakes. He was just too good today."