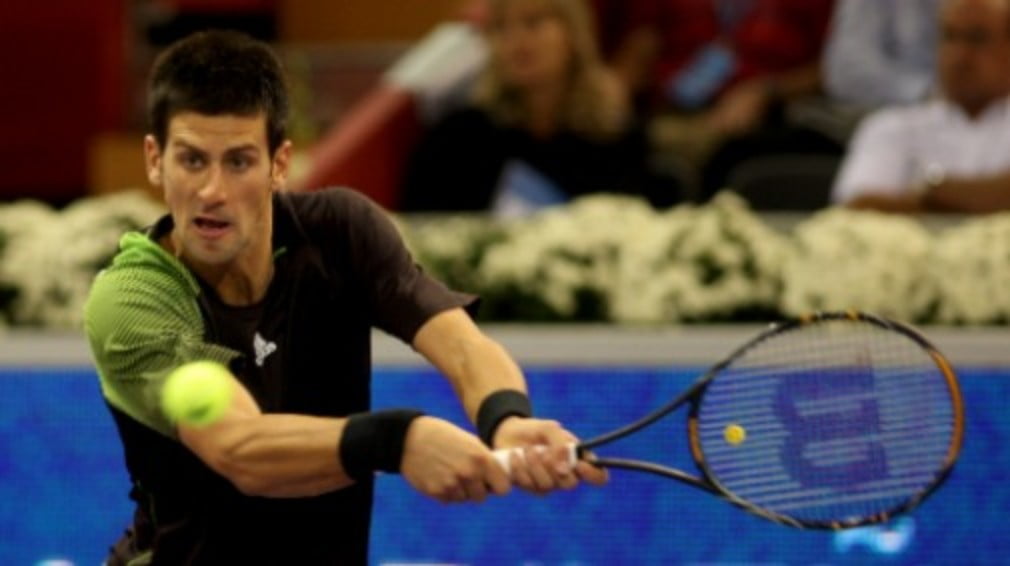 Djokovic can look forward to Shanghai semi-finals
Originally published on 26/02/10 11:20
Novak Djokovic is the first player through to the Tennis Masters Cup semi-finals after winning his second singles of the week in the Gold Group on Tuesday.
The world No.3 and second seed in Shanghai needed every ounce of effort to see off Nikolay Davydenko though, eventually coming through 7-6, 0-6, 7-5 at the Qi Zhong Stadium.
The result puts the Serb at the top of the four-man group on two wins from two matches and guarantees him one of the two qualification spots for Saturdays semi-finals.
After edging a tight first set with a 7-3 tie-break success, Djokovic completely lost his way in the second set before clinching victory at the end of a nail-biting decider after two hours and 18 minutes on court.
All is not lost for Davydenko, however, as he will now go into his final round robin contest against Argentine Juan Martin Del Potro knowing that the winner will join Djokovic in the last four.
The Russian and the South American are locked on one win apiece after Del Potro won his first match of the week earlier on Tuesday when he beat Frenchman Jo-Wilfried Tsonga 7-6, 7-6 in just under two hours.
After swapping early breaks, the opening set was decided by a tie-break which Del Potro came through 7-4. The second set took a similar pattern with both men breaking serve early before another tie-break was needed. Again it was the Argentine who responded under pressure by wrapping up the breaker 7-5.
Afterwards Del Potro said he is feeling confident ahead of Thursday's winner-takes-all clash with Davydenko. "I play many times against him," the South American said. "I know his game. I have a chance to be in the semi-finals if I beat him, but it will be tough. All the matches are tough here. I will see on Thursday what I can do to beat him."
Two heart-breaking defeats for Tsonga means a semi-final place is now impossible for the popular Frenchman. On Sunday he lost to Davydenko by the narrowest of margins 7-6 in the decider only to lose another two tie-breaks against Del Potro. He must try to pick himself up for his last round robin match when he takes on Djokovic in 48 hours time.
[Del Potro] played better than me in the tie-breaks. I missed some easy balls and that's it, Tsonga said. Its difficult because I lost the first match. The first match was very hard and very tight, and this one too but thats tennis and sports."
Earlier in the day the American Bryan brothers won their second match of the week to guarantee a place in the doubles semi-finals.