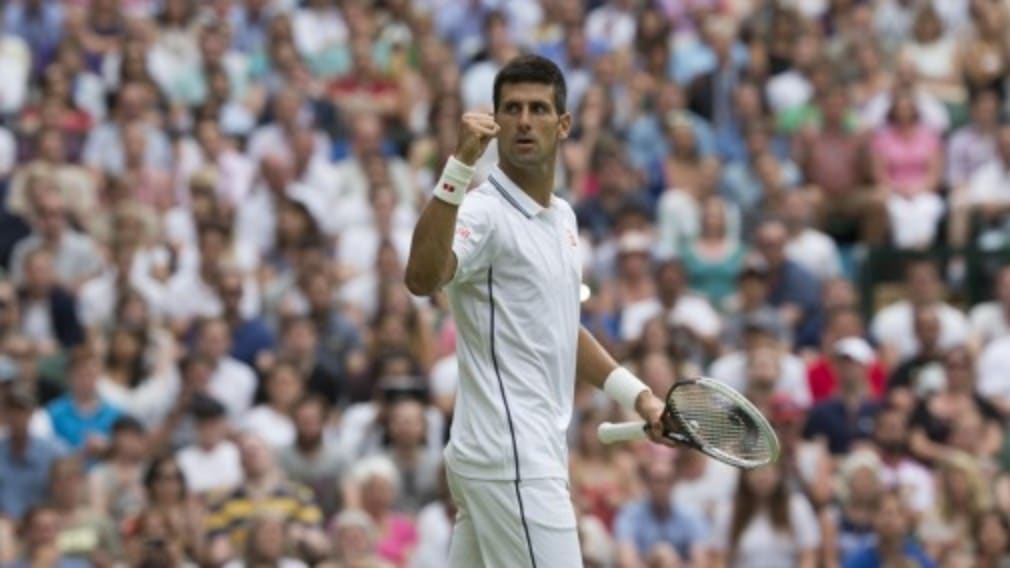 Djokovic battles past Stepanek but Ferrer falls
Originally published on 25/06/14
The Serb was pushed hard throughout the match by Stepanek but the Czech's failure to convert any of his five break-point chances proved costly. After dropping the first two sets he managed to take the third on a tie-break and then had a chance to break at 5-5 in the fourth. However, even after sportingly conceding a point following a correctly called challenge, Djokovic held his serve and then came through the tie-break 7-5 to advance to the third round, where he will meet Gilles Simon.
"I was two sets up and had some break-point chances in the third and should have closed it out in the tie-break," said Djokovic. "But credit to him for fighting. He is 35 years old but he is moving very well and surface wise grass is probably his favourite and he performs really well on the big stages. He loves to engage the crowd, he is an entertainer. It was fun from one side to be part of a great, thrilling match but from the other side I should not have complicated my own life.
"I knew I came to Wimbledon without any official match practice and my last match was just over an hour so I didn't have much match play. I was quite focused and intent before the match because I knew what was waiting on the other side of the net, I was aware of his abilities and his qualities, especially on the grass, you could see that today. He doesn't give up, he moves really well at the net, he was reading my passing shot very well so all in all it was a difficult one but I am glad I stayed in their mentally and managed to win the match."
Andrey Kuznetsov pulled off the biggest upset of the day as he recorded his first win over a top-10 player, beating seventh seed Ferrer 6-7(5) 6-0 3-6 6-3 6-2. The Spaniard had reached at least the quarter-finals in his last 10 Grand Slams but was blown away by 77 winners from 23-year-old Kuznetsov, who is into the third round of a Slam for the first time.
A year on from shocking Roger Federer, Sergiy Stakhovksy caused another second-round upset as he beat No.12 seed Gulbis in straight sets. The world No.90 committed just nine unforced errors compared to 31 from the Latvian, including nine double faults, to claim only his second victory over a top-10 player.
"He served well in the match," said Gulbis. "Nothing was working from my side. Two of my biggest weapons, my serve and return, weren't there. I couldn't get any free points from my serve. A lot of credit to Sergiy. That's why he beat Roger last year on grass. The guy has a good game plan. He comes in, he chips the ball, he takes out the pace."
"With these Slazenger balls, they don't take so much spin. Even the baseline game, when I spin the ball, the ball collapses, it slides off the strings. It's different. I served really well last year and two years ago in a couple matches but always on grass I play one good match then I play the next one bad. I wasn't consistent enough. I don't have a consistent game yet on grass. I need to work on that."
Alexandr Dolgopolov served 42 aces to beat Benjamin Becker 6-7(4) 7-6(0) 6-3 6-4 and set up a third-round clash with Grigor Dimitrov. The No.12 seed and Queen's champion beat fellow former junior Wimbledon champion Luke Saville 6-3 6-2 6-4 to reach round three for the first time
"First of all, I just want to say how honoured I was to play on the Centre Court," said Dimitrov. "I think it's every kid's dream. I was just really happy to get out there and play a match like that. A convincing win. I was just trying to be solid and well-composed on the court. I think it was all about my game today, I felt comfortable.".
Kevin Anderson reeled off 24 aces to win his second-round match with Edouard Roger-Vasselin 7-6(0) 1-6 6-3 6-4 while Fabio Fognini beat qualifier Tim Puetz 2-6 6-4 7-6 (8-6) 6-3.