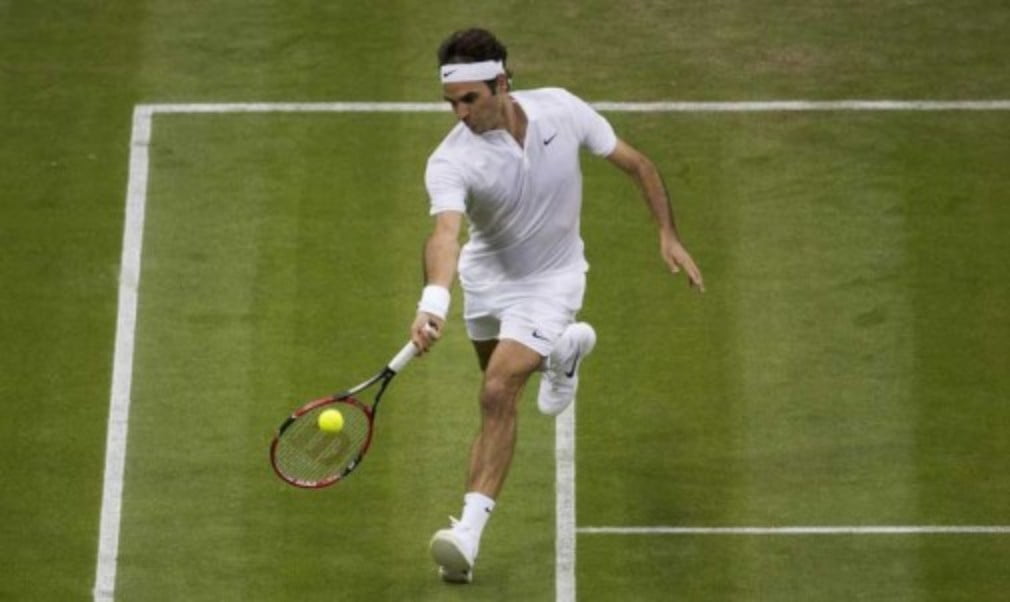 Djokovic absence opens doors
Originally published on 06/07/16 00:00
Djokovic's premature exit in the third round has opened up the top half of the draw, with Roger Federer, Milos Raonic and Marin Cilic all primed to take full advantage.
Federer will be hoping to avoid a repeat of the 2014 US Open semi-final when he was beaten in straight sets by an inspired Cilic, while Djokovic's conqueror Sam Querrey will be looking to pull off another scalp as he looks to deny Raonic a place in his third Grand Slam semi-final.
On the bottom half of the draw, Tomas Berdych will be expected to see off surprise quarter-finalist Lucas Pouille, while 2013 champion Andy Murray will face his toughest test yet in the shape of Jo-Wilfried Tsonga.
We take a closer look at the men's quarter-finals and make our predictions for the last-eight matches.

Sam Querrey (USA) v Milos Raonic (CAN) [6]
First match on No.1 Court
A clash of two players with very big serves – be prepared for a couple of tiebreaks. Raonic hit the fastest serve of the tournament during his third round win against Jack Sock and has served up 101 aces in four matches, while Sam Qurrey is just four behind on 97. "Serve is going to be very important," Raonic said of this quarter-final clash – and if Querrey serves as well as he did against Novak Djokovic – 31 aces and many of those on break points – Raonic will have an uphill battle. Having faced a very different kind of opponent in the fleet-footed David Goffin in the fourth round, it may take him a little while to adjust to a very different game style.
But perhaps more important than serve will be experience – Querrey has been on the tour longer, but it is Raonic's fifth Grand Slam quarter-final and Querrey's first – will the enormity of the occasion get to him?
Prediction: Raonic in four

Roger Federer (SUI) [3] v Marin Cilic (CRO) [9]
First match on Centre Court
While Federer has won five of their six previous encounters, Cilic won the last time they met – at the US Open semi-finals in 2014 – he went on to win the title. "He blew me off the court," Federer recalled. "I know what I'm getting into." The pair practised together before the Championships and Federer said the 6'6" Croatian was in good shape. Cilic has served 76 aces – and a staggering 65% of his first serves have been unreturnable. Both players have been solid on serve – Federer been broken just twice (97%) and Cilic on three occasions (95%).
Serve will be important in this one too – but whether Cilic can reproduce the kind of performance that blew Federer off the court at Flushing Meadows remains to be seen. "I can just look back at that match and know what things I was doing really well," Cilic said following his fourth round win against a stricken Kei Nishikori. "I definitely am playing well at the moment." Goran Ivanisevic defied the odds to win the title here in 2001 – can Cilic follow in his coach's footsteps?
Federer missed the French Open with a back injury and is yet to face a real test at this year's tournament. If Cilic can start strongly, the longer the match goes on, the better his chances of springing an upset.
Prediction: Cilic in five
Tomas Berdych (CZE) [10] v Lucas Pouille (FRA)
Second match on No.1 Court
Jiri Vesely's win over No.8 seed Dominic Thiem and No.31 Joao Sousa means Berdych could reach the last four after facing only one seeded opponent – No.24 seed Alexander Zverev in the third round. Both players have been subject to rough scheduling with the rain delays and Berdych has the disadvantage of not having had a day off after having to return to court on Tuesday to complete his five-set victory over Vesely.
However, the 2010 Wimbledon finalist is through to his third major quarter-final of the season – and the 15th of his career, and should have far too much firepower for the unseeded Frenchman, who had never won a professional match on grass before the Championships.
Prediction: Berdych in three

Jo-Wilfried Tsonga (FRA) [12] v Andy Murray (GBR) [2]
Second match on Centre Court
This will be the pair's third meeting on Centre Court over the years – with Murray coming out on top on both previous occasions – at the same stage in 2010 and in the semi-finals in 2012. Tsonga famously upset Murray in the first round of the 2008 Australian Open, but since the Frenchman has only beaten Murray once in 12 meetings. Murray is yet to drop a set at SW19 – although he is yet to be fully tested – he has only been broken three times in four matches.
"He's a really, really good grass court player, very dangerous," Murray said of his next opponent. "I played him here a couple of times before and both matches were hard. A few of the sets came down to just a couple of points. I'm aware I'll have to be playing at my highest level to win."
After a marathon fifth-set win against John Isner in the third round, Tsonga, who suffered an adductor injury at the French Open, will be grateful for Richard Gasquet's retirement with a back injury after just 24 minutes in the fourth round to enable him to be ready for the physical challenge that Murray will present.
Prediction: Murray in four