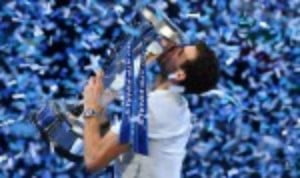 Dimitrov triumphs in London
Originally published on 19/11/17 00:00
The 26-year-old edged a compelling contest with David Goffin 7-5 4-6 6-3 to win the Nitto ATP Finals in London. His campaign of promise has ended on the ultimate high note and he is the first Bulgarian to ever triumph at the season-finale.
Dimitrov dropped to his knees in disbelief the moment victory was confirmed – after his opponent fluffed a makeable volley – and he immediately embraced his family and friends before saluting his vocal compatriots inside the atmospheric O2 arena.
The Bulgarian began the year by chalking up three Top 10 victories in Brisbane, and he has had to wait until the last event of the season to capture another. He has notched up a further five Top 10 wins in London, and is the undisputed champion.
Spectators have become accustomed to the 'Big Four' trading blows in an effort to land the ATP's blue-ribbon event, but this time, the final was different.
Dimitrov and Goffin were competing for the most important title of their respective careers and they were both noticeably, and understandably, anxious.
Unforced-errors rather than winners decided the majority of points in the early stages and it took until the fourth game before a hold of serve was registered. The Belgian held the lead, but his advantage did not last for long.
Serving to stay in the first set at 5-6, Goffin tried desperately to force a tiebreak, however his opponent was determined to avoid the lottery of a shootout.
Dimitrov witnessed four set-points slip by in a protracted 12th game, but he was not to be denied a fifth time. Goffin finally succumbed to the pressure and a loose backhand enabled the Bulgarian to move within a set of home.
For the last 11 years, the winner of the first set had departed with the trophy. Recent history was against Goffin, but from the moment he saved a break-point with a piercing backhand that clipped the line in the sixth game, he was in the ascendancy.
Dimitrov had been unable to take a vice-like grip of the match, and he lost his serve in the following game. A forehand winner driven into the corner was sufficient for the Belgian to take a 4-3 lead and eventually force a final set.
The decider was filled with tension. It was the Bulgarian who struck a decisive blow in the sixth game though, and he survived a fraught final few games to complete the job and delight his passionate supporters.