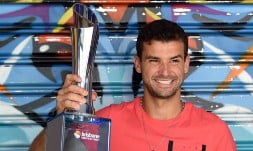 Dimitrov snaps title drought in Brisbane
Originally published on 08/01/17 00:00
The 25-year-old defeated Kei Nishikori 6-2 2-6 6-3 in Sunday's final to win his fifth career title, but his first since the 2014 Aegon Championships. It was an impressive week for Dimitrov, who beat Top 10 players Dominic Thiem and Milos Raonic in the quarter-finals and semi-finals respectively.
"It is one of the big moments for me," Dimitrov said. "It's been quite a few months for me on and off the court. I think that was an emotional win for me, but at the same time, it wasn't unexpected. I have put in the work. I think I have learned a lot. I have gone through some serious work and I have just been working on myself on and off the court.
"I think at some point, things need to start giving back to you a little bit. I just feel that I feel fortunate enough to be in the final, to be so healthy and to being obviously in such a shape. But at the same time, I'm pretty humbled, because I have set myself quite high goals for the first six months and one of them was actually to win a tournament. And it happened during the first week of the year, which makes things definitely look a lot more positive for me."
Kei Nishikori is nursing a hip injury following his defeat to Dimitrov at the Queensland Tennis Centre. The world No.5 pulled out of the FAST4 exhibition in Sydney on Monday night in a bid to recover before the Australian Open, which starts on January 16.
"It's not too bad but obviously I needed some rest," Nishikori said. "It was a really tough tournament. There were five of the top 10 in the tournament. I played Dimi in the final and it was another tough match and I used a lot of energy on the court last week."
Meanwhile, in the women's draw, Karolina Pliskova defeated Alize Cornet 6-0 6-3 to win the seventh WTA title of her career.
"The first set was very dominant. But then I think I took speed off my serve a little bit somehow and was more relaxed," Pliskova said. "The second set was closer, definitely, but still two breaks and 6-3, so I was feeling comfortable on my serve, even though there were few tougher games than in the first.
"I was just expecting it was not going to be that easy like it was in the first. I didn't miss almost whole set in the first set. Yeah, I was feeling pretty good today."