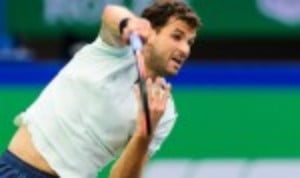 Dimitrov makes his mark
Originally published on 15/11/17 00:00
The Bulgarian extended his season into the weekend by thrashing a hapless David Goffin 6-0 6-2 in the Pete Sampras Group in just 73 minutes.
"Obviously I played well, it's something I cannot hide," said a delighted Dimitrov. "I think my focus was very good and I started the match well. I was using every opportunity and won the most important points, especially in the first set.
"That really helps I think. Especially in this tournament, I mean, each set, each game, each point matters and counts.
"Once you're into the game, once you're into the match, you don't think about anything other than how you can play better. I don't know, maybe David had some health problems or something.
"I've played I think a little bit over 50 matches right now. I think I need to sit down and think about it, but right now, from the top of my head, this (performance) is definitely the one that sticks out in terms of consistency, focus, striking the ball, movement, agility, everything that I can possibly think.
"On my side, it was definitely a good day in the office."
The Belgian had lost two of three previous meetings with Dimitrov this season and it quickly became apparent why.
Goffin tried desperately to exert early control, but his groundstrokes lacked the necessary fizz to regularly punch holes in his opponent's defence.
Dimitrov soaked up pressure when he had to, but was also keen to showcase his shotmaking skills. His forehand down the line was particularly potent and his exploits at net gained him the approval of the crowd.
The Bulgarian dominated the opening set despite only making 36 per cent of first serves. He was rarely troubled behind his delivery, however the same could not be said for his rival.
Goffin's tentative second serve was repeatedly exposed. The 26-year-old won just one of 11 points behind his second deal and it contributed to the one-sided nature of the opening set.
As Dimitrov raced into a 3-0 second set lead – his ninth game in a row – spectators began to ponder options for a late lunch. It was fast becoming a chastening experience for the Belgian, but his focus never wandered.
Goffin finally got his side of the scoreboard moving in the tenth game of the match. A deafening roar greeted his smash winner but there was to be no miracle comeback.
Dimitrov, who received a code violation for coaching in the second set, remained composed as his opponent tried to mount a late challenge. A further break of serve completed the rout for the world No.6 and he is fast becoming a serious title contender.
Goffin admitted afterwards that he was simply outplayed by a confident opponent. "Grigor was better today," he said. "We both started the match really well and had a lot of good rallies. It was great intensity from the start.
"He played well. He was a little bit more aggressive. He came to the net from the first point. It was not easy for me to lose my serve from the start. It was tough for my confidence after that when it was 0-4.
"In the second, I had some opportunities to come back, to break back, but he was really solid. He served well and was really solid until the end of the match."