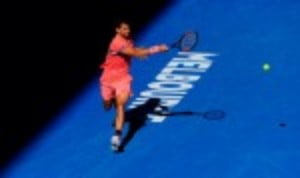 Dimitrov: It hurts
Originally published on 23/01/18 00:00
The Bulgarian had hoped his excellent win over Nick Kyrgios on Sunday evening would be the launchpad to achieve something special, however his wait for a maiden Grand Slam title goes on.
"It's hard to hide my disappointment," said Dimitrov. "I am disappointed. It's how I feel. It hurts, and so it should.
"Right now I won't think too rational, simple as that. I need to give myself a couple of days just to relax a little bit and do things I don't get a chance to do during the tournament, and kind of reassess the whole Australian trip.
"I think overall it wasn't a bad one, but I certainly wasn't where I wanted to be. That's at least the positive thing, I feel I can improve with quite a few weeks ahead of me. I need to be smart the way I'm practicing now, not to overdo it again, but at the same time, make sure I find my rhythm again.
"That requires quite a bit of work, but I'm certain I'm going to be able to do it and hopefully produce better tennis as the year progresses."
An area that will be of particular focus for the Bulgarian when he resumes training will be his serve. Throughout the tournament he struggled badly behind his second delivery.
"I've been thinking since day one, even Brisbane, that I have not served well enough," he added. "Obviously I'm going to watch quite a bit of video and see some of the stats.
"That's one thing I know I can turn around, make sure I'm a bit more consistent. Even now, I felt like some of the matches I was serving pretty much all over 50%. It's just the winning percentage on the second serve that was pretty low, and I made quite a few double-faults."
Dimitrov will next be in action in his homeland. He is scheduled to defend the Sofia Open title he won 12 months ago in early February.