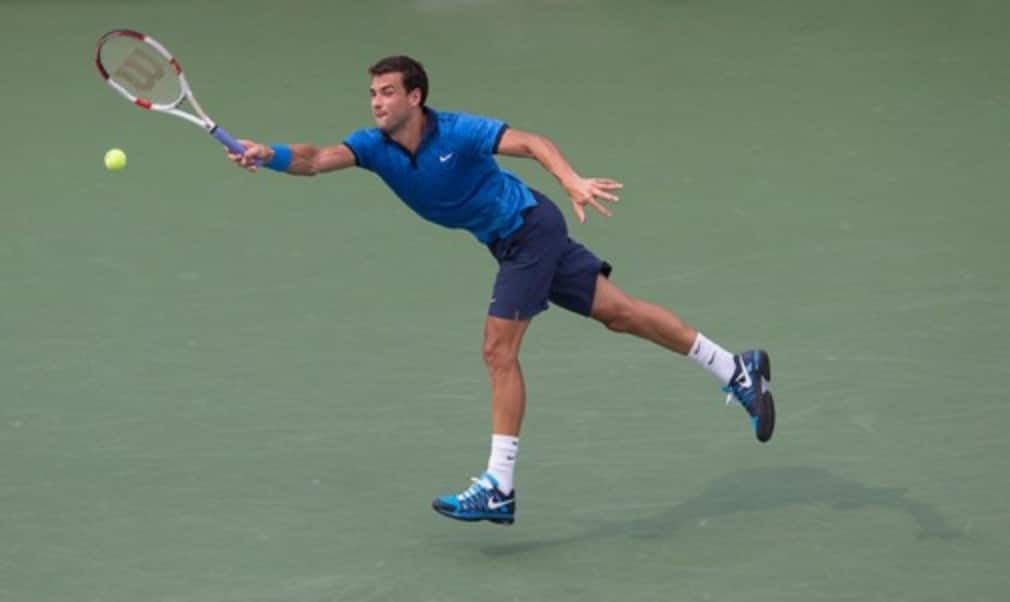 Dimitrov hits incredible winner in Monfils defeat
Originally published on 03/09/14
On an extremely hot and humid day at the US Open, 23-year-old Dimitrov was defeated by Gael Monfils 7-5 7-6(6) 7-5 in two hours and 24 minutes.
Serving to stay in the match at 4-5 down in the third set, Dimitrov hit a running court forehand which whipped past Monfils after a thrilling rally in which both players displayed superb athleticism.
After coming to the net after his serve, Dimitrov played a series of volleys to send Monfils scampering around the baseline before the Frenchman sent a backhand down the line after chasing down a ball at the net, which looked to be a winner. However, with impressive anticipation and speed across the court, Dimitrov not only got his racket to it, but whipped a winner past Monfils, who could only acknowledge the shot as Dimitrov raised both hands in the air in celebration.
The point is a fine example of why Dimitrov, ranked World No. 8, has become one of the most talked about players on tour. He has a stunning single-handed backhand and likes to come to the net to put pressure on his opponents. Although he was disappointed to lose the match on Tuesday, he has reached the fourth round of the US Open for the first time and has had a good season.
He reached the semi-finals at Wimbledon this year, losing to Novak Djokovic who went on to win the title and he claimed the honour of being the first Bulgarian man to reach a Grand Slam quarter-final at the Australian Open earlier this year. With the exception of Roland Garros, where he went out in the first round, his results at the Slams have been good and he is on track to qualify for the season ending Barclays ATP World Tour Finals.
However, Dimitrov, who is the youngest player in the top 10, is not satisfied. "I'm 23, I don't want to think that I'm young or something like that. I want to win majors," he said. "That's my main goal. I'm not satisfied with my results so far, even though I have probably had my best year of tennis. I'm not even close to being satisfied."
"It's been a great year but there are still five tournaments to be played. I have basically a great chance to perform well in all five of them, so I'm looking forward to that". Coached by Roger Rasheed, Dimitrov is one of the hardest working players on Tour and his rise up the rankings has been remarkable. He was just outside the Top 20 at the start of 2014 and at the end of 2012 he was just inside the Top 50.
Given the depth of players on Tour at the moment the young Bulgarian has racked up some impressive wins, with four ATP titles under his belt. He has a game that suits all surfaces; he won the title on the grass at Queen's this year, as well as titles in Bucharest (clay) and Acapulco (hard courts). His first ATP title came in Stockholm in 2013.
"I knew what to expect from Gael today," said Dimitrov. "Actually he delivered. Maybe I didn't give enough credit to him today, but he just did what he had to do in order to beat me". The shotmaker, whose game is so elegant to watch, is sure to add to his trophy cabinet soon and you wouldn't be surprised if, in the not too distant future, it was at a Grand Slam.
This story is bought to you by Wilson, Official Ball of the US Open since 1979