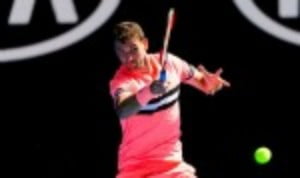 Dimitrov fights on
Originally published on 19/01/18 00:00
The Bulgarian gained sweet revenge over Andrey Rublev, who he lost to at the US Open last year, as he guaranteed his participation in the second week of the tournament.
Dimitrov was a 6-3 4-6 6-4 6-4 winner after three hours and four minutes of play.
It was a third round match played in extreme heat, and it turned into a fearsome battle that was short on quality. A combined total of 28 double-faults highlights the main problem both players had.
Dimitrov will encounter Nick Kyrgios or Jo-Wilfried Tsonga in the last sixteen, and he intends to watch their Friday night scrap from an ice bath as he recovers from his endeavours.
"These are the most important matches for me, when things are not working and I just find a way to win," explained the relieved Bulgarian. "Andrey is an unbelievable player and he beat me at the US Open, so I knew what to expect and I knew what to do.
"Certain things in my game are not working at the moment and I'm just pleased that I won the match."
It was another grind for the No.3 seed, and his unreliable second serve remains his biggest concern. He won just 23% of points behind his second deal against MacKenzine McDonald on Wednesday, and his numbers were only marginally better against the Russian.
Rublev made a bright start to proceedings, but his level fluctuated throughout. The 20-year-old found it difficult at times to cope with the variety on display from his talented opponent – yet he still managed to create numerous chances to extend the match.
A break-point conversion rate of just 27% (4/15) is primarily why his time Down Under has come to an unsatisfactory end.