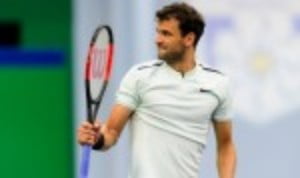 Dimitrov begins with edgy win
Originally published on 13/11/17 00:00
The 26-year-old made the ideal start to the Pete Sampras Group by squeezing past Dominic Thiem 6-3 5-7 7-5. The first two sets were far from compelling viewing, however the deciding set was filled with unexpected twists and turns.
Dimitrov, the first Bulgarian to ever qualify for the season-finale, stumbled over the winning line in unconvincing fashion. He faltered when serving for the match at 5-4 in the third set, but regrouped and won the final two games to finally overcome his plucky opponent.
"I'd never been out here. Now I can say that that barrier is broken, I guess," said Dimitrov after his debut joy at the 02 arena.
"It was just one of those new experiences that I think I'm going to remember for the rest of my life. This is where I always wanted to be at, in amongst the top players. Being able to come through in my first match, it's only a positive."
After a highly productive spell grinding on clay earlier this season, Thiem has struggled to transfer his form onto other surfaces. He failed to make an impact on grass and has rarely impressed on hard-courts.
Prior to the start of the tournament, Thiem had lost 13 of his 14 previous meetings with Top 10 players on hard-courts. His record against the elite was unlikely to instil him with much confidence, and he looked bereft of ideas in the first set of his scrap with the Bulgarian.
A solitary break of serve, achieved in the sixth game, gave Dimitrov a 4-2 lead and he protected his advantage until the number six was beside his name.
The second set skipped along at pace without significant incident, but the Austrian did well to withstand significant pressure in the 10th game. The world No.4 faced a break-point, but he denied his rival with a thunderous forehand.
After saving a virtual match-point and holding serve, Thiem turned the tables in the following game. The Bulgarian played a loose game as he attempted to force a tiebreak and he was soon embroiled in a third set as a consequence of his errant play.
The decider was equally tight as both players tried to play on the front foot. Opportunities to force a breakthrough were rare, but a delightful volley, executed to perfection, earned Dimitrov a break and a 4-3 lead.
The Bulgarian was closing in on victory, but he found it difficult to apply the finishing touches. A double-fault cost him his serve and he gifted his opponent an avenue back into the match.
Thiem's unwillingness to go quietly had earned him a second chance, however he failed to make the most of his reprieve. The 24-year-old played a dreadful service game to fall 6-5 behind – and this time, there was no way back.
The Austrian was encouraged by aspects of his performance, but was annoyed with how he let the match slip. "I think it was a way better performance than the last few weeks and last tournaments, but still not perfect obviously," he remarked.
"The first two sets were normal and then the third set was little bit weird. I broke back for 5-all, then immediately got a shocking break for 5-6, but still had chances. I think it was pretty open until the end. I think there were some things just not good enough. I think he deserved to win."