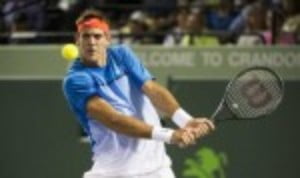 Del Potro sets Federer clash
Originally published on 23/03/16 00:00
Prior to Indian Wells, it had been two weeks short of a year since Juan Martin Del Potro graced the courts of a Masters 1000 event, and it was at the scene of his last appearance where the Argentine registered a hard-fought 6-0 7-6(4) win over compatriot Guido Pella in Miami on Wednesday.
Victory sets up a mouth-watering second round showdown, where the east coast shores will see the embers of an old rivalry rekindled. The former world No.4 will clash with Roger Federer for the 21st time in their careers. The most famous of them coming at Flushing Meadows where 'Delpo' broke the mould, defeating the Swiss in five sets in the 2009 US Open final.
Since then, a series of recurring wrist injuries has forced the 27-year-old to spend long periods off the court, seeing him slip to a career low of No.1045 as recently as February. Upon his eagerly anticipated return, the 6'6" Olympic bronze medallist reached the semi-final at Delray Beach, before travelling to Indian Wells, a trip which would end at the hands of world No.7 Tomas Berdych – succumbing to the Czech 7-6(4) 6-2 after a promising first set.
Now ranked 366, the comeback story of 2016 continues in Miami, providing familiar surroundings for the Argentine, who spent a lot of his recovery period in the city. Despite late resistance, countryman Pella was dispatched in a minute shy of an hour and half.
Third seed and two-time champion Federer awaits Del Potro a match-up which will see two recently wounded animals fight for the right to advance. Back after knee surgery in early February, Federer takes a 15-5 head-to-head lead into Friday's contest (10-5 on hard courts), the most iconic meeting occurring 1100 miles north of Miami's Crandon Park Tennis Center, back in 2009.
Heading to New York that year, Federer and Nadal had claimed 17 out of the last 18 Grand Slam titles – the anomaly being Djokovic's 2008 Australian Open crown. Sixth seed Del Potro had gladly taken advantage of Andy Murray's fourth round exit and duly took his chance – beating the Scot's conqueror Marin Cilic in four sets before dispatching Nadal for the loss of just six games.
Federer, winner of 11 of those 18 previous Grand Slams, had no reason for fear in the build-up to the final. Along with a heap of experience to call upon, the Swiss had won all six of their previous meetings. But twice Del Potro come from a set down on his Grand Slam final debut, claiming the tiebreaks in the second and fourth sets before achieving his one and only major win to date under the lights in the Big Apple.
Going into Friday's second round rematch a lot has changed since that historic day. The pair have since met 13 times, with two of Del Potro's four wins coming in the final of Federer's home tournament in Basel. For their latest encounter you have to look back at the end-of-season ATP World Tour Final where Federer triumphed in a three set round-robin classic, coming from a set down to win 4-6 7-6(2) 7-5.
Looking forward, the worry for Del Potro fans has to be his backhand. During his win over Pella, it became apparent that the Argentine is struggling to hit over the ball with sufficient pace and opted out of his two-hander to slice the ball back on the majority of occasions. He lacks the ability to be able to produce a penetrative shot which will pierce an opponent's defence, unlike on his ferocious forehand wing.
At a time where the Top 10 have no weaknesses, where those at the pinnacle of the men's game have bulletproof game plans meticulously thought out, there is no room for flaws.
Federer will be fully aware of the chink in his challenger's armour and will take full advantage as Pella began to do in the second set. The Swiss No.1's early return from surgery leaves doubts as to whether he will be ready to compete earlier than planned. If Del Potro can produce the tennis seen in the first set against Berdych two weeks ago, then we are in for an intriguing battle.