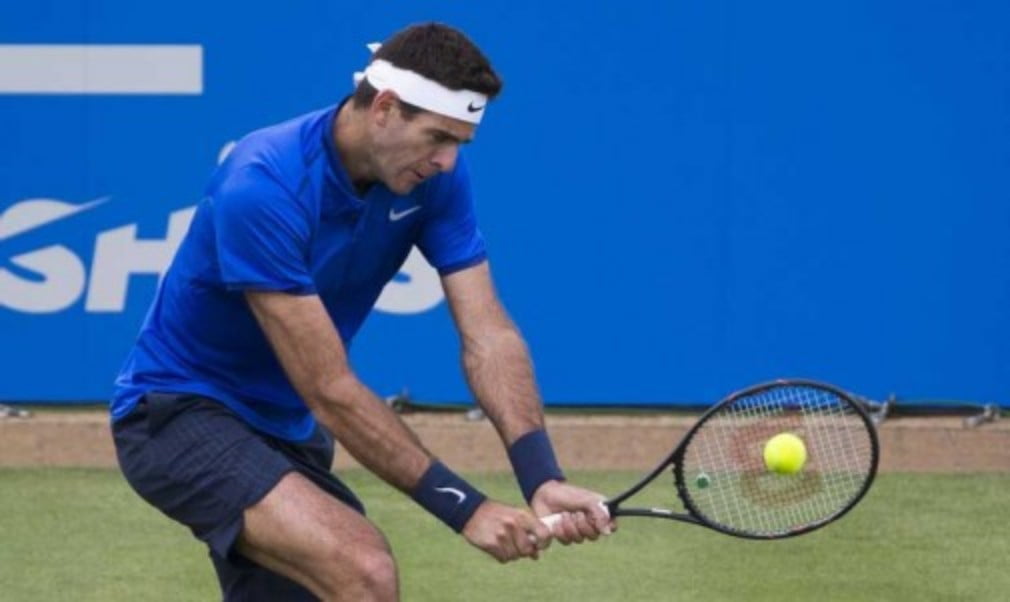 Del Potro: I have to deal with my pain
Originally published on 22/06/16 00:00
Speaking on Tuesday after his match against Borna Coric at The Boodles exhibition event at Stoke Park, Del Potro explained how he has had to adapt his game following the surgery to both wrists and his battle to get back to the top of the game.
"I have two choices," he said, "one is watching the tournaments at home and one is to stay here fighting."
The Argentinean, who won the US Open in 2009, suffered a debilitating injury to his right wrist on which he had surgery in 2010. He was away from the Tour for most of the year. He had more wrist problems, this time to his left wrist, and three operations in 2014 and 2015. From the beginning of 2014 until the end of 2015 he played only 14 matches and he has not played at a Grand Slam since the 2014 Australian Open.
"I know it is a big challenge for me because I have to deal with my pain, so I have to be strong enough mentally to survive this kind of situation," Del Potro said. "In the end I want to play tennis for more years I am here for that."
Currently ranked No.164, Del Potro is still playing with a protected ranking and will use that during Wimbledon and the Olympics. It remains in place until Cincinnatti. Going into Wimbledon as an unseeded player means he will get some tough matches – equally he will be a tough opponent for some of the higher-ranked players.
In Stuttgart he showed that even playing with a game that he has adapted to take into account the injury he is capable of some good tennis. He beat Grigor Dimitrov and Gilles Simon en route to the semi-finals, where he lost to Philipp Kohlschreiber. He also played singles and doubles last week at Queen's.
"It is good for me after three years to be playing on this surface, at the beginning it was really complicated for me," he said. "But now I am starting to remember how the game is on grass. I am feeling good my movement is OK. I need to be faster than I am now. But that takes time.
"I am playing more slice, I serve and volley all the time. I am not feeling 100% to hit my best backhand but for the moment it's like I need another game from what I am playing. In the future I look forward to playing as I did in the past because the wrist will be fixed and I am working to get into that position as soon as possible.
"I am so glad to play grasscourt events, a few tournaments before Wimbledon is great for me. My wrist is responding well I am not having any other problems, in my body, which is good."
Del Potro, who won Olympic bronze on the grass at the All England Club in 2012, first played at Wimbledon 10 years ago, as a junior. Aged 15 he said he only a spent a few days on the grass because he says he lost so early. He explained that he spent a couple of weeks playing on grass in 2009 to improve his game.
"I started to play much better – I got the Olympic medal and made semi-finals [in 2013], (l. to Djokovic) and I now like to play on grass," he laughed. "I am so glad to play Wimbledon again".