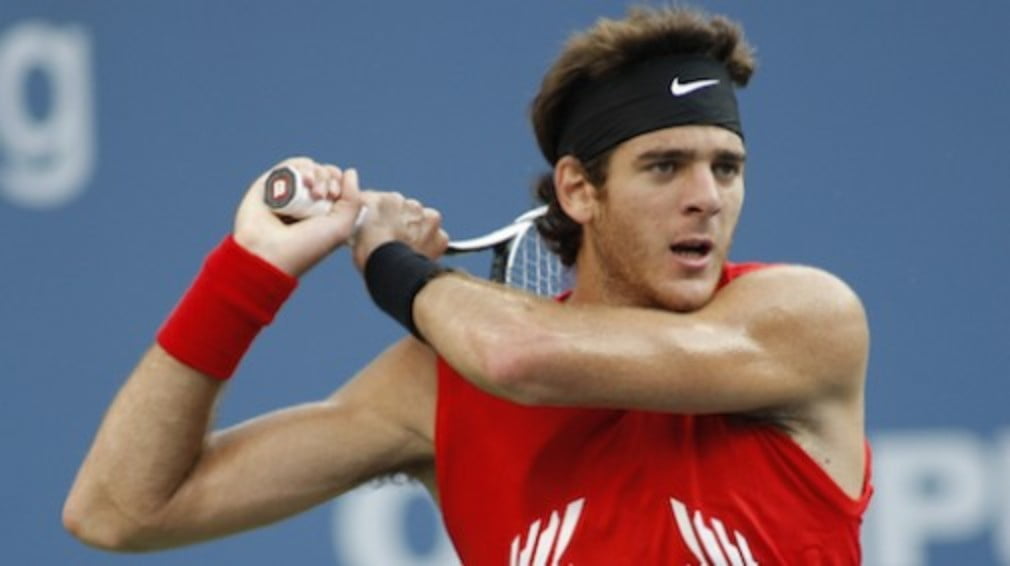 Del Potro doubtful for Sunday's Davis Cup singles
Originally published on 26/02/10 11:22
Juan Martin del Potro will be given as much time as possible to be fit for Sunday's reverse singles rubbers in the Davis Cup final by an Argentina team desperate for his services.
Del Potro, the Argentine No.1, pulled up with an undisclosed injury to his right thigh near the end of his singles defeat to Spain's Feliciano Lopez. Now, with Spain winning the doubles on Saturday to lead 2-1, the visitors will win the final should they seal one of the two remaining reverse singles.
Del Potro is scheduled to lead off on Sunday against Spain's No.1 David Ferrer who was comfortably beaten by David Nalbandian, but his involvement remained in doubt on Saturday.
Argentina team doctor Diego Rivas said del Potro's injury was not serious but that it could keep him from playing Ferrer. "We will do everything possible," Rivas said, adding that del Potro had undergone intense treatment throughout Saturday.
If del Potro cannot play, Mancini has either Agustin Calleri and Jose Acasuso…
Teams have until an hour before the match to announce who will play, and Argentina suggested it might wait until then. "We are seeing how Juan improves," captain Alberto Mancini said. "Then we will announce our decision."
If del Potro cannot play, Mancini has a choice between Agustin Calleri and Jose Acasuso.
Calleri, who played the doubles on Saturday, has an 8-4 singles record since his cup debut in 2000. Acasuso had a 5-2 singles record. But he led Ferrer 4-3 in head-to-heads, while Ferrer edged Calleri 3-2.
But Spain's captain, Emilio Sanchez, may well elect to play Fernando Verdasco instead of Ferrer, who has been struggling with his form for some time. Verdasco played alongside Lopez in Saturday's doubles.
Should Spain manage to win one of the remaining two rubbers, they would be the first Davis Cup squad to win a tie in Argentina in a decade. The hosts, however, are seeking the first Davis Cup title in their nation's history.
Davis Cup final as it stands:
Argentina 1-2 Spain
Friday:
David Nalbandian beat David Ferrer 6-3 6-2 6-3
Juan Martin del Potro lost to Feliciano Lopez 4-6 7-6(2) 7-6(4) 6-3
Saturday:
Nalbandian/Calleri lost to Lopez/Verdasco 5-7 7-5 7-6(5) 6-3
Sunday (subject to change):
Juan Martin del Potro versus David Ferrer
David Nalbandian versus Feliciano Lopez