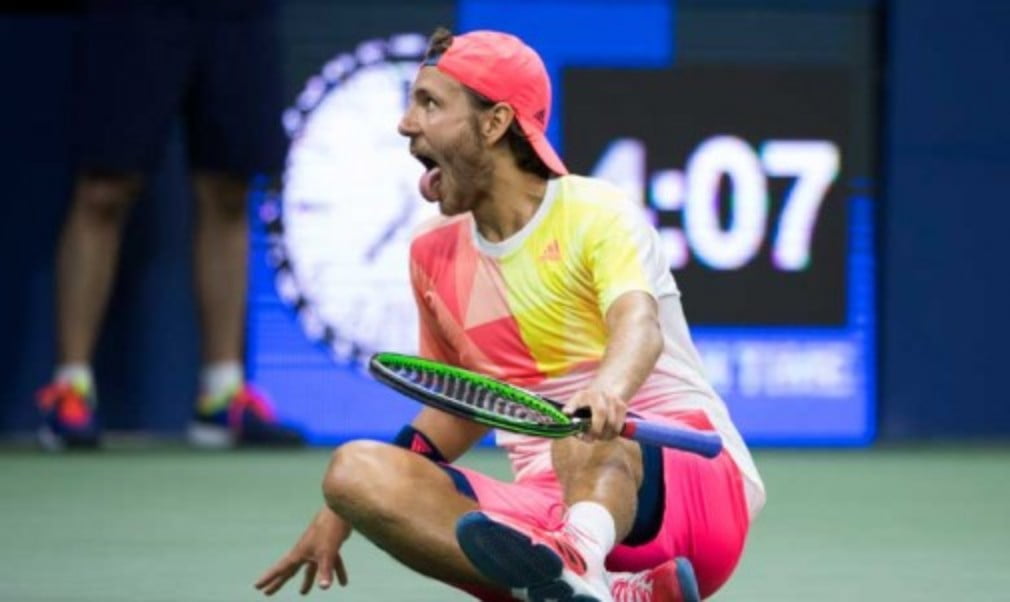 Day Seven: French flying high
Originally published on 04/09/16 00:00
Rafa goes home
In a match that lasted four hours, 22-year-old Frenchman Lucas Pouille defeated Rafael Nadal 6-1 2-6 6-4 3-6 7-6(6). In the final set tiebreak the Frenchman built up a 6-3 lead but squandered his three match points eventually taking the match on his fourth. Pouille was a quarter-finalist at Wimbledon and with the win here he will break into the world's Top 20. Rafa said: "He played well. That's it. You know, I didn't play bad, but I didn't play enough well. He played well. That's it."
Allez Lamonf
Gael Monfils, who is through to the quarter-finals without dropping a set beat Marcos Baghdatis. The 30-year-old Frenchman now has an 18-2 match record since winning the biggest ATP World Tour title of his career at the 500 level event in Washington in July.
Good day for the Frenchmen
Not only did Lucas Pouille and Gael Monfils book their places in the quarterfinals, but compatriot Jo-Wilfried Tsonga is there too, for the second straight year.
The British Invasion
Or perhaps this is now the retrenchment. Kyle Edmund was beaten in straight sets by Novak Djokovic, while Johanna Konta was defeated by Latvian player Anasatsija Sevastova. Konta gave credit to her opponent for managing to come through the three match points she had, but the British No.1 said: "I had to really stay within myself and really just focus on the best I could do. I will go back now, go back home and rest and just work on keeping – continuously try and improve."
The Americans had a disappointing day
Tropical storm Hermine did not hit New York today but on court Madison Keys was blown away by Caroiine Wozniacki and Jack Sock went down in four sets to Frenchman Tsonga. There has not been an American man in the US Open quarterfinals since John Isner and Andy Roddick in 2011.
"Obviously I wanted to go out there and keep it going for not only myself but for the US as a whole." Sock said. "Unfortunately I couldn't do that today."
For Keys, this is the sixth time she has got to the fourth round at Flushing Meadows but failed to progress any further.
Injured but victorious
Last year's US Open finalist Roberta Vinci came through against Ukrainian and world No.99 Lesia Tsurenko. But the Italian 33-year-old admitted afterwards that she is not 100% physically, citing a problem with a tendon in her left leg as well as a back injury. She said: "I don't want to think about my injury. I will try to recover today and tomorrow and focus for the next round."
Loving the Game
Former world No. 1 Caroline Wozniacki will play 23-year-old Latvian Anastasija Sevastova in the quarter-finals. What motivates the Dane these days?
"I think the love for the game. I think my motivator is clearly winning tournaments. It's winning big matches. It's being out there on Arthur Ashe Stadium and playing in front of a big crowd. That's motivating. That's the thing that when it's grey and cold outside and you have to go practice at 7:00am, that's what you think of. It's being out there in the big moments.
Race for No.1
Now that Angelique Kerber has reached the quarter-finals with her victory over Petra Kvitova, Serena Williams must make it to the final to retain her No.1 spot.
How the draws look
Men's quarterfinals (top)
Novak Djokovic vs. Jo Wilfried Tsonga
Lucas Pouille vs. Gael Monfils
Women's quarterfinals (bottom)
Caroline Wozniacki vs. Anastasija Sevastova
Roberta Vinci vs. Angelique Kerber