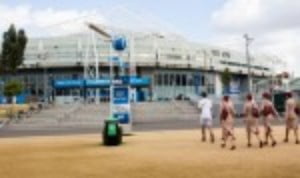 Day Five Picks
Originally published on 18/01/18 00:00
Grigor Dimitrov (3) v Andrey Rublev (30)
Dimitrov has the opportunity to avenge his defeat to Rublev at the US Open last year.
The Bulgarian, one of the pre-tournament favourites, flirted with disaster in his second round clash with American qualifier, MacKenzine McDonald.
It took the No.3 seed five-sets to overcome his lowly ranked rival and he was far from complimentary when analysing his own performance. He has survived an almighty scare and remains in the mix, however he will be wary of what's to come.
Rublev, a precocious talent, believes attack is the best form of defence – and his sizzling shotmaking has helped him become an instant crowd-pleaser.
The 20-year-old has already knocked down two veterans en route to the last 32 – David Ferrer and Marcos Baghdatis – however he was forced to expend significant amounts of energy while doing so.
This third round match is due to take place in soaring temperatures, and that should assist the cause of the more experienced campaigner.
Prediction: Dimitrov in four
Jo-Wilfried Tsonga (15) v Nick Kyrgios (17)
This has the potential to be the ultimate popcorn match.
Both competitors are blessed with significant firepower, and neither player is likely to hold back as they strive for a last sixteen berth.
Tsonga and Kyrgios have similar traits and both are capable of drifting between the sublime and the ridiculous. The pair have the finesse to match their brawn though, and it won't simply be a baseline gunfight.
Kyrgios has enjoyed a blemish-free run so far, but the same cannot be said for his French opponent. Tsonga, a former finalist at Melbourne Park, roared back from the brink of defeat to stun Denis Shapovalov on Wednesday.
It was a monumental win for the 32-year-old, who has struggled for victories at Grand Slams since reaching the last eight 12 months ago. Tsonga showed his mettle when it really counted against the Canadian, and he will expect to carry the momentum into his next match.
Prediction: Kyrgios in four
Caroline Wozniacki (2) v Kiki Bertens (30)
It's hard to believe that Wozniacki still remains in the hunt for a maiden Grand Slam title.
The Dane appeared certain to be heading towards the exit door when she trailed Jana Fett 5-1 in a deciding set on Wednesday, however her renowned battling qualities helped her scrape through.
Her Croatian opponent, overcome with nerves, contributed to her own demise but the No.2 seed once again highlighted why she can never be counted out – no matter the scoreline.
Such an unexpected win should give Wozniacki a new lease of life in the competition and she will take comfort from her head to head record with her next opponent. The 27-year-old has won both meetings with the Dutchwoman and has not even dropped a set.
Bertens is attempting to reach the fourth round of the Australian Open for the first time. She has reached the round of 32 after convincing victories over Catherine Bellis and Nicole Gibbs.
Prediction: Wozniacki in 2
Elina Svitolina (4) v Marta Kostyuk
23 year-old Elina Svitolina will encounter a player eight years her junior today.
Marta Kostyuk has provided the feel-good story of the tournament so far. The 15-year-old is the youngest player to reach the third round of a Grand Slam since Mirjana Lucic-Baroni in 1997.
The young Ukraine has written her name into the history books, and she now has the chance to test her game against her esteemed compatriot. It's a dream come true for Kostyuk, who will get to sample the delights of Rod Laver Arena.
Svitolina is expected to dismiss her youthful opponent without much difficulty and reach the last sixteen for the first time, but she will be aware that the spectators will be cheering for the underdog.
It promises to be a fascinating match-up.
Prediction: Svitolina in 2