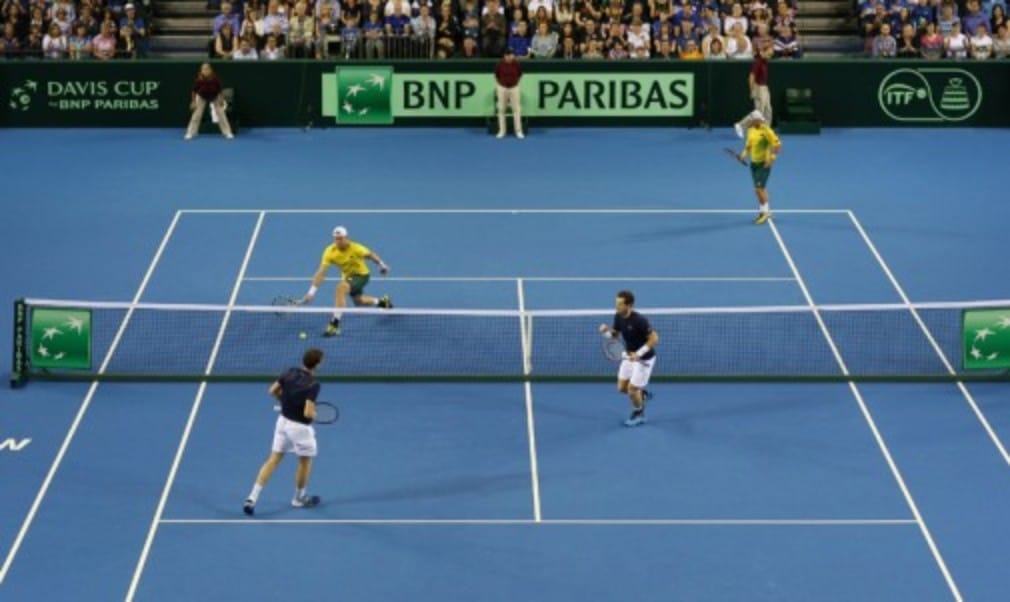 Davis Cup: GB win doubles to take lead in semi-final
Originally published on 19/09/15
Great Britain are within one victory of reaching their first Davis Cup final since 1978 thanks to a stunning victory by Andy and Jamie Murray in what could prove to be a decisive second day of their semi-final against Australia. The brothers beat Lleyton Hewitt and Sam Groth 4-6 6-3 6-4 6-7 6-4 after nearly four hours of high drama in front of 8,000 raucous fans in Glasgowís Emirates Arena.
The Murrays' victory leaves Britain needing only one win from the last day's two singles matches to go through to the November final against the victors of this weekend's other semi-final between Belgium and Argentina in Brussels.
After the brothers' thrilling performance in front of their home fans, it would be wholly appropriate if Andy Murray were to seal victory in the tie when he faces Bernard Tomic in the first of the reverse singles. Nevertheless, it remains to be seen how much his efforts over the first two days have taken out of him.
If Tomic pulls off a surprise to beat Murray, the tie will go down to a deciding fifth rubber, in which Dan Evans is due to face Thanasi Kokkinakis. However Wally Masur, the Australian captain, could yet decide to change his line-up for the final day, with Hewitt and Groth both possible contenders for singles berths.
After Andy Murray's speedy victory over Kokkinakis on the opening day it was always likely that the world No 3 would replace Dominic Inglot in the doubles to play alongside his brother.
Murray junior loves this competition and his passion was evident throughout a gripping contest. While Andy hit some brilliant returns, his brother played superbly at the net. Jamie, who is enjoying an excellent year, has lightning-quick reactions and regularly made telling interceptions.
The noise in the arena was so loud that there were times towards the end when Andy Murray asked for quiet because the noise had not died down sufficiently for him to hear the ball come off the server's racket.
In such a charged atmosphere all four players appeared to feel the pressure at different times, though Hewitt played well throughout. The former world No 1, appearing in what could be his last match in a competition in which he has so often excelled, was constantly supporting Groth, who seemed to become more nervous as the match progressed.
The first two sets were decided by single breaks as Jamie Murray and then Groth dropped serve. Andy Murray was broken for the first time as the Australians went 3-0 up at the start of the third set, but from 4-2 down the Britons turned the set around by breaking both their opponents in succession.
The momentum swayed one way and then the other in the fourth set. Jamie Murray and Hewitt both dropped their first service games and at 4-5 Jamie saved three set points from 0-40 down. The Scots appeared to have the match at their mercy when Hewitt was broken again at 5-6. Murray, serving for the match in the following game, led 30-0, but the Australians broke back and then saved a match point in the tie-break, which they won 8-6.
Groth dropped his serve to love at the start of the deciding set, but from 3-0 down the Australians levelled to 3-3 by breaking Andy Murray again. Groth, however, was proving to be the weakest link and when he served at 4-5 Andy Murray created two more match points with a blistering return of serve. The Britons needed only one of them as Groth missed a volley to give the home team victory.
"We kept fighting," Jamie Murray said afterwards. "Obviously we kind of let it slip in the fourth set, which was a bit frustrating, but we got right back on it and fought as hard as we could."
Andy Murray said it had been 'an incredible match'. To huge cheers from the crowd he added: "We stuck together – like brothers should – and just managed to come up with enough good returns at the end to get through."