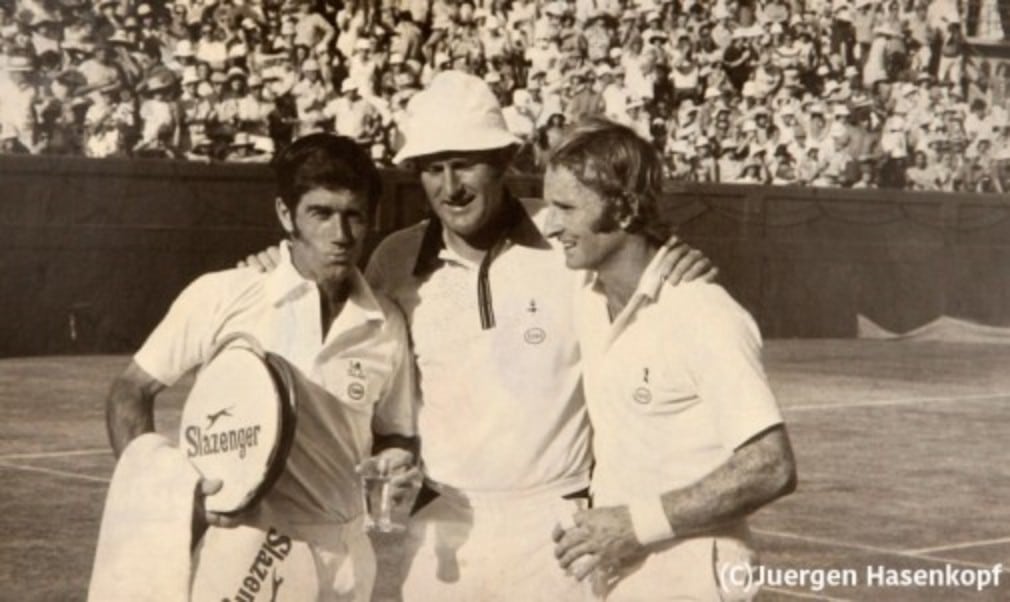 Davis Cup: Champions as player and captain
Originally published on 18/09/15
The first, Dwight Davis, the gentleman after whom the competition was named, won the inaugural event in 1900 as a playing captain.
If Australia were to go all the way this year and lift a 29th Davis Cup title, Wally Masur would not join the fabled list of players to have won the Davis Cup as both player and captain.
Masur, who played 16 ties for Australia, was 6-0 in singles rubbers in 1990 as he helped Australia reach the Davis Cup final, only to be left out of the team by captain Neale Fraser for the final, which Australia lost 3-2 to USA.
It would be quite a feat if Masur, who by all intents and purposes is keeping the captain's seat warm for Lleyton Hewitt, could guide his team all the way to the final. Masur succeeded Pat Rafter in January and will be replaced by Hewitt when the two-time Grand Slam champion retires after the 2016 Australian Open.
None of the players on the list won a career Grand Slam, and there is no sign of the likes of Rod Laver, John McEnroe, Boris Becker or Bjorn Borg, but there are still some names you might recognise…

Arthur Ashe
As player: 1968, 1969, 1970
As captain: 1981, 1982
While Roger Federer's 17 Grand Slam titles dwarves Ashe's tally of three Grand Slam titles, the American's contribution to the sport cannot be underestimated.
In 1963 Ashe was the first black player selected to the US Davis Cup team, playing 19 ties and helping the USA win the title three years running between 1968 and 1970. He won 27 of 32 singles rubbers, an American record that has only since been surpassed by John McEnroe, Andre Agassi and Andy Roddick.
"Since no black American had ever been on the team, I was now a part of history," Ashe wrote in his memoir, Days of Grace. "Despite segregation, I loved the United States."
Ashe retired in 1980 after suffering a heart attack in July 1979 and went on to serve as captain of the US Davis Cup team for five years, winning the title in his first year as captain in 1981 when the USA beat Argentina in the final and retaining it the following year.
Norman Brookes
As player: 1907, 1908, 1909, 1911, 1914, 1919
As captain: 1907, 1908, 1909, 1911, 1914, 1919
Another name that is synonymous with one of the Grand Slams. While players at the US Open compete for the title on Arthur Ashe Stadium, at the Australian Open the men are playing for the Norman Brookes Challenge Cup.
In 1907, the same year that Brookes became the first non-Briton to win the men's singles title at Wimbledon, the Melbourne-born left-hander led Australasia to victory in the Davis Cup and end the duopoly of USA and Great Britain. With Brookes as captain, Australasia played in seven finals, winning six of them between 1907 and 1919, a record made even more impressive by the fact that the tournament was not held for four years between 1915-1918 owing to World War I.
Albert Costa
As player: 2000
As captain: 2009, 2011
Albert Costa's record of being the last man to win the Davis Cup as a player and a captain is safe for another year; none of the captains of the four 2015 semi-finalists ever won the trophy as a player.
Costa, who won his only Grand Slam title at the 2002 French Open, was part of the Spanish team that won the Davis Cup for the first time in 2000, beating Australia 3-1 in the final. He lost the opening singles rubber to Lleyton Hewitt but Juan Carlos Ferrero won both his singles rubbers to help the Spaniards secure the first of five Davis Cup titles.
In December 2008, Costa replaced Emilio Sanchez Vicario as Spain's Davis Cup captain, leading the Spaniards to victory twice in three years. In his first year as captain, a formidable Spanish team featuring Rafael Nadal, David Ferrer, Fernando Verdasco and Feliciano Lopez whitewashed Czech Republic 5-0 in the final in Barcelona. Two years later the same quartet beat Argentina 3-1 in Seville's Olympic Stadium to regain the crown.
Neale Fraser
As player: 1959, 1960, 1961, 1962
As captain: 1973, 1977, 1983, 1986
While the legendary Harry Hopman won 16 titles as captain and Roy Emerson eight as a player, Neale Fraser (pictured, with Rod Laver and Ken Rosewall) can still lay claim to being Australia's Mr Davis Cup. Fraser, who won three Grand Slam singles titles, was a team player at heart, winning 16 major doubles titles (11 men's, five mixed).
In 1959 he won the singles, doubles and mixed doubles titles at the US National (now Open), a feat he repeated in 1960 and an achievement that has never been matched since. With a near-perfect 11-1 record in singles, Fraser played his part as Australia won four consecutive Davis Cup titles between 1959 and 1962.
In 1970 he succeeded Hopman as captain, a position he held for a record 24 years, guiding Australia to four titles in that time, including a 5-0 whitewash of the USA on American soil in 1973 with a squad featuring John Newcombe, Rod Laver, Ken Rosewall, arguably the strongest Davis Cup team in history.