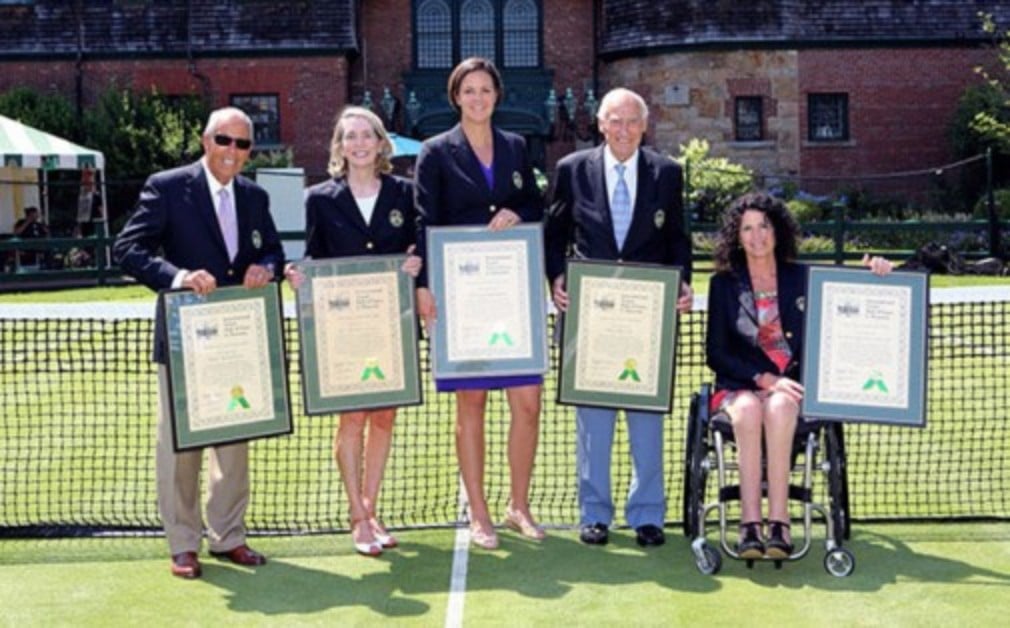 Davenport, Bollettieri and Barrett inducted into Hall of Fame
Originally published on 15/07/14
Joining the American pair at the award ceremony in Newport, Rhode Island were five-time Paralympic champion Chantal Vandierendonck, British tennis historian John Barrett and United States Tennis Association president Jane Brown Grimes. The ceremony was hosted by International Tennis Hall of Fame chairman Christopher Clouser and watched by thousands of fans on Centre Court at Bill Talbert Stadium.
"To be up here on this stage and to share it with all the greatness that is up here is overwhelming," said three-time Grand Slam champion Davenport. "This is an incredible honour for me, an amazing achievement. I will forever be humbled by this."
The Hall of Fame honours players and contributors to the sport of tennis and has inducted 240 people from 21 different countries since 1955. The class of 2014 will be will be honoured in a tribute exhibition in the Hall of Fame museum for the year ahead. The exhibition will include photographs of the five inductees as well as memorabilia such as Davenport's Grand Slam singles trophies, several of Barrett's books and Bollettieri's sunglasses. Bollettieri, who has coached 10 players to world No.1, drew plenty of applause and laughter when he encouraged anyone he's ever yelled at on the court to stand up.
"There is really no way I could ever thank you enough for making my journey such a great one," he said. "Just know that I love you and I always yell at those I love the most. So you can expect to hear this old raspy voice hollering for many more years."
This year's ceremony was opened by 18-time Grand Slam champion Chris Evert while Barrett, the Voice of Wimbledon on BBC from 1971-2006 and a legendary Wimbledon historian, was joined by his wife and now fellow Hall of Famer Angela Mortimer Barrett.
"Within each area that I worked, I've been able to throw myself into it with enthusiasm and enjoyed every part of it," said Barrett. "I don't think there's any one moment that I would say gave me more pleasure than any other. I've just been so lucky. That's what I tell everybody, I'm the luckiest man in the world. In the days I was broadcasting, I had the best seat in the house. I could comment about the game I loved from an early age and they actually paid me for it. What could be more wonderful than that?"
Vandierendonck, the first female wheelchair player to be inducted and the first ever player from the Netherlands, was introduced by 2010 Hall of Famer Brad Parks, who was the first wheelchair tennis player to be enshrined in the Hall of Fame.
"Wheelchair tennis brought so much to my life," said Vandierendonck. "The challenge to work on my tennis game, I just love to practice and see if all you work for will reveal in the matches. But it also helped me so much to deal with my life in a wheelchair. Being around all those active, young, independent, positive minded sports people showed me how great my life in a wheelchair still could be."
In presenting Brown Grimes, who has been involved with tennis since 1970, Evert said: "I can speak first hand to the fact that Jane's skilled diplomacy was crucial to the survival of the WTA Tour as she was able to navigate the tricky waters of attracting and keeping desirable sponsorships while distancing our association with past relationships with controversial brands. It was a pivotal time for women's tennis and it put us on a secure course for the future."
To read more about the International Tennis Hall of Fame at Newport, Rhode Island, don't miss tennishead Volume 5 Issue 4, on sale July 31.