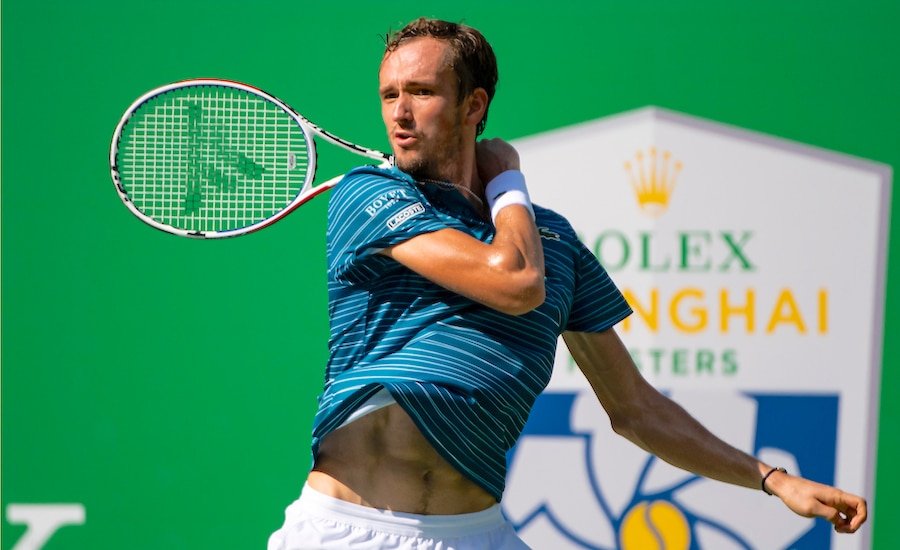 Daniil Medvedev statistics highlight why he deserves his place alongside Nadal, Djokovic, Federer
2019 has been a breakout season for Daniil Medvedev and the sheer effectiveness of his form matches that of the Big 3
Daniil Medvedev has played an astounding 76 matches on the ATP Tour this season winning 59 of them which equates to an incredible 77.6% win ratio. The Big 3 of Federer, Djokovic and Nadal all rank above Medvedev in this effectiveness department but they have all played considerably lees matches than the young Russian. However, when you look at win ratio's for Masters 1000 events, the highest ranking tournaments on the ATP Tour, Medvedev actually moves above Djokovic into 3rd place.
You can analyse the stats for yourself here…
2019 win ratios for all matches:
88'9% ?? Nadal (48-6)
85'5% ?? Federer (47-8)
84'2% ?? Djokovic (48-9)
77'6% ?? Medvedev (59-17)
71'4% ?? Thiem (40-16)
68'1% ?? Monfils (32-15)
67'4% ?? Nishikori (29-14)
2019 win ratios for Masters 1000 events:
90'5% ?? Nadal (19-2)
81% ?? Federer (17-4)
78'6% ?? Medvedev (22-6)
75% ?? Djokovic (18-6)
71'4% ?? Fognini (15-6)
71'4% ?? Monfils (10-4)
68'8% ?? Isner (11-5)
68'4% ?? Thiem (13-6)
Interestingly it's Djokovic's performances in these Masters 1000 events that haven't matched his performances at Grand Slams and many seasoned commentators would say that Djokovic is obviously focussing on the Slams as his main goal, which he himself has corroborated, is to catch and overtake both Nadal and Federer for the number of career Grand Slam singles titles.
Medvedev's own record at the Slams this year is average compared to his performances at ATP events. He lost in the round of 16 to Djokovic in Australia, the first round of the French Open to Pierre-Hugues Herbert, the round of 32 at Wimbledon to David Goffin but then made amends by reaching the final of the US Open before losing to Nadal.
To read every issue ever published of the world's best tennis magazine, tennishead, visit our 'Magazine Archive' and you can buy a copy of the latest issue here.To win incredible tennis prizes for free, enter our latest 'Competitions'. For all the breaking tennis news and exclusive player interviews, visit our 'News' section. For the latest racket, ball, shoe and clothing buyers guides plus video play tests, visit our 'Gear' section