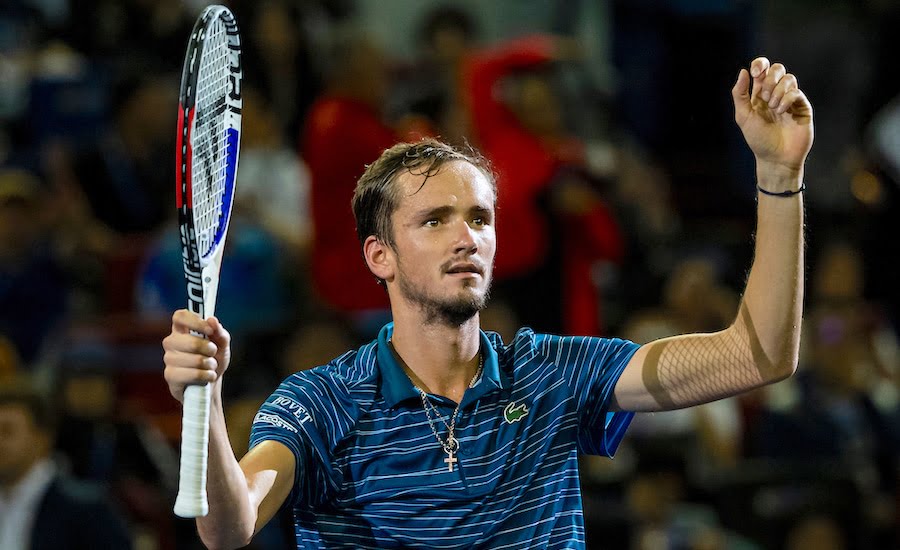 Daniil Medvedev says he "probably was invincible" at Shanghai Masters
The young Russian Daniil Medvedev is on a streak of six finals in his last six tournaments and right now his confidence seems to match his tennis
Daniil Medvedev triumphed at the Shanghai Masters 1000 event with a convincing straight set win over Germany's Alexander Zverev. This was Medvedev's third tournament victory in the last six he's played and prompted him to announce that during the Chinese event he "looked invincible".
Medvedev was conducting his post match press conference when he was asked to confirm if he now felt invincible after earlier in the tournament saying he didn't feel that way because he could still lose. Medvedev said, "Yeah, I can say that, well, here I looked invincible this week since I'm the winner. Because, as I say, I don't like to talk about future, because you never know what's future got for you. That's why my answer stays the same.
"Okay, this week, yes, I probably was invincible, but for the next upcoming weeks, I'm not sure. And even this week there were some matches that I could have definitely, let's say, lose a set and we don't know how it would have gone.
"But I'm here as a winner, so happy about it."
Medvedev is knocking on the door of the 'Big 3' (Federer, Djokovic and Nadal) in terms of his world ranking after winning another 1000 points in Shanghai with Dominic Thiem and Alexander Zverev also increasing their personal world ranking point tallies.
To read every issue ever published of the world's best tennis magazine, tennishead, visit our 'Magazine Archive' and you can buy a copy of the latest issue here.To win incredible tennis prizes for free, enter our latest 'Competitions'. For all the breaking tennis news and exclusive player interviews, visit our 'News' section. For the latest racket, ball, shoe and clothing buyers guides plus video play tests, visit our 'Gear' section