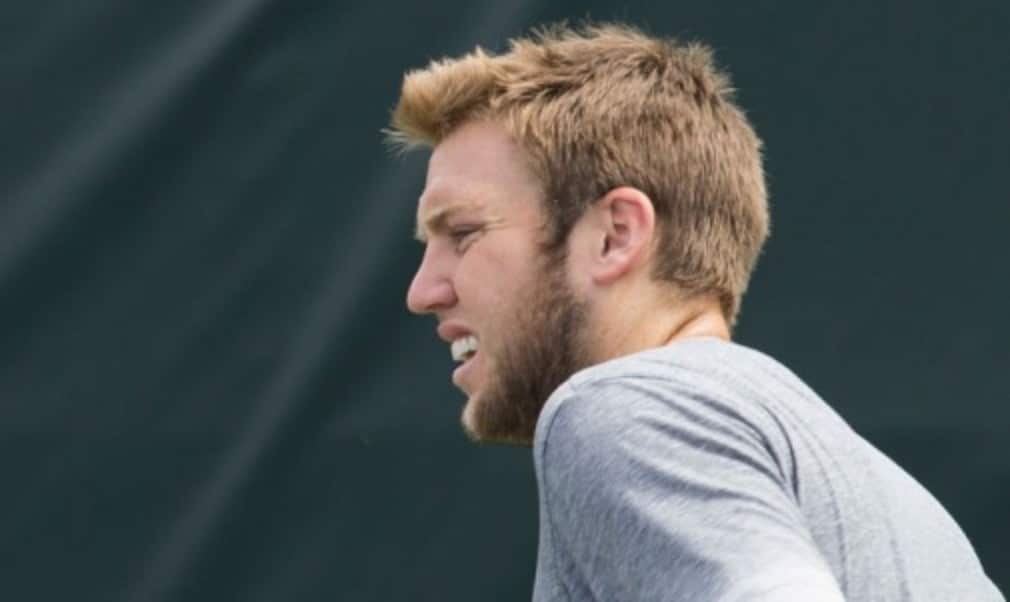 Cramp muscles in to end Sock's US Open
Originally published on 04/09/15
He knew it was coming. He'd feared it. He'd tried ibuprofen to hold it at bay. But when he felt the cramp bite early in the fourth set of his second round match against Belgium's Ruben Bemelmans, he had nothing. Legs locked, feet planted in the corner of the Grandstand court, he gestured to the medical staff: you'll have to come to me.
As they slowly lowered him to the floor, the exhaustion kicked in. Delirious and on the verge of passing out, trainers packed ice around the 22-year-old's head, neck and even into his shorts in a bid to cool him down. Bemelmans, the winner of a match in which he trailed two sets to one, came to shake his hand. Sock could barely lift his arm from the concrete.
Flushing Meadows was a hotbox on Thursday, with reports of temperatures topping 37'C on court. That's nothing new for players with experience of American and Australian summers like Sock, Vasek Pospisil, even young Thanasi Kokkinakis. All three were blighted by cramp while leading their matches by two sets to one. Like Sock, Kokkinakis retired against Richard Gasquet, one set from the biggest win of his fledgling career.
Like Sock, Pospisil has encountered the same agony in the past. He cursed his failing muscles as he fought on in vain against Andreas Haider-Maurer in the first round, the Austrian's reward a night match on Ashe with Novak Djokovic. "Next year I'll have it sorted," Pospisil vowed. "This is the last time that I'm going to lose a match because of physical problems. There has to be some kind of solution out there."
Is Sock's conditioning to blame? Plenty asked the question, but John Isner refused to believe it. "It's not a fitness thing," said the American No.1. "I think that's a big, big misconception. He's in very good shape. He can play 50-ball rallies if he wants to. But he sweats a lot. He loses a lot when he's sweating.
"His body was at a deficit of whatever it is, sodium, magnesium, potassium – in these humid conditions, you have to put all that in your body. It's a huge bummer. No offense to his opponent today, but if Jack's body held up, he would have won the match, so…"
Scheduling may have played a part. Sock reached a career-high ranking coming into the US Open and is 23-13 in 2015, while he and Pospisil are back in contention to reach the Barclays ATP World Tour Finals together having missed out in 2014. All told, he has played 54 matches this season – for context, Andy Murray has played 77.
Having played three sets of doubles on Wednesday, Sock reportedly requested a late afternoon or evening spot on Thursday. He and Bemelmans took to court shortly after 1pm, second on Grandstand.
The sight of Sock being led back to the locker room draped on the shoulders of medical staff reignited the debate about what can be done to protect the players. The extreme heat rule, which provides the option of a 10-minute break after the second set, came into effect at the Billie Jean King National Tennis Center – but, as it is a WTA directive, only for the women, a nonsense bordering on barbaric.
Others considered more wholesale changes. Jon Wertheim of Sports Illustrated asked if it was time to reconsider the five-set format, arguing that both players and fans were being sold short by marathon matches that, while thrilling at the time, leave winners with little in the tank for the next round.
"How much is tennis an exercise in ballstriking and accuracy and power?" Wertheim wrote. "And how much is it about physical fitness? Because right now, the balance is changing. Match after match is being won by the fitter player, not the better ballstriker."
Ivo Karlovic made his feelings on the subject clear. "Best of five matches in this heat is ridiculous," he tweeted after losing in a fifth-set tiebreak to Jiri Vesely. "Stop this suffering!" But Roger Federer, who breezed to a 6-1 6-2 6-1 win over Steve Darcis, seemed surprised that the issue was being raised at all.
"I think everybody should be well prepared," the five-time former US Open champion said. "I know we don't play many best-of-five-set matches all the time, so of course the body can react funny once you exceed the two-and-a-half to three-and-a-half hours of play.
"Maybe some guys already came in too tired, whatever it was. I think you have to analyse case by case. But I think other players should be so fit that heat really shouldn't matter at that point, the ones we've been playing in."
Two-time Grand Slam champion Stan Wawrinka took a different view. "That's a question I'm always asking myself: Why they [the women's draw] have the heat rule. If it's dangerous for them after two sets to have ten minutes, why we don't have anything for five sets?"
Murray echoed Wawrinka's view. "When it's extremely hot and humid, it helps to have that break," he said. "I don't know exactly what it's for. But I guess you get the chance to sort of go off and change, get under a cold shower if you want to."
On Twitter, tennis writers Simon Cambers and Doug Robson found themselves mooting no-ad scoring in a bid to speed up matches. Both they and Wertheim were suggesting moves that would change the fundamentals of Grand Slam tennis, but such change is not unheard of: take the tiebreak, introduced in 1970 at the US Open. Another possibility is switching mid-tournament from a best-of-three to best-of-five, which also has precedent. Until 2007, the finals of most ATP Masters Series events were best-of-five affairs, having been best-of-three for the rest of the tournament, as was the WTA Tour Championships final between 1984 and 1988.
Of course, whether any rule changes would have helped Sock today seems moot. Yes, in a three-set scenario he would have already have won his match, as would Pospisil and Kokkinakis – and Andy Murray would be heading home, having fought from two sets down against Adrian Mannarino on Thursday – but Sock went down inside two hours, far less time than the three hours, 23 minutes Johanna Konta took to beat Garbine Muguruza on the exposed Court 17 just minutes earlier.
The absolute minimum the ITF and ATP can do is revisit the introduction of the Extreme Heat Policy for the men at all four majors. ESPN reported that the ATP had released a statement confirming that discussions about a heat rule had taken place but that "there has not been sufficient support or consensus for a specific heat rule to be introduced at ATP events, where matches are best-of-three sets and frequently scheduled later in the day at tournaments that are prone to extreme heat weather conditions.
"Nonetheless, the ATP medical services team does exercise a number of protocols when necessary in the case of extreme heat on the Tour."
Where those protocols left Sock today is questionable at best, given Mardy Fish's experience on Wednesday. Skipping his media duties, Sock released a statement to the press.
"Playing in the US Open is the biggest and most important moment of the season for me, so having to retire from my match today is extremely disappointing," he said. "I want to thank everyone for their support and can't wait to be back next year. I feel better already and look forward to playing Davis Cup."