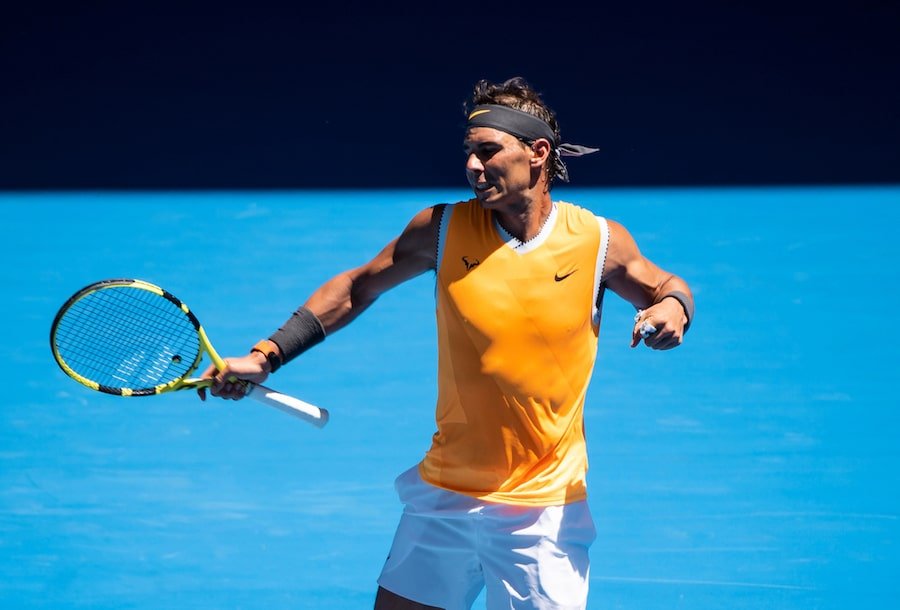 Class shines through on day 3 at the Australian Open 2019: Men's singles results & news including Federer and Nadal
Day three of the Australian Open men's singles produced a beautiful mix of classy wins for the biggest names in the game, including Roger Federer and Rafa Nadal, and shock victories for the games up and coming stars.
Federer, Nadal, Dimitrov, Cilic, Tsitsipas, Khachanov and Schwartzman were just some of the big names to fire themselves into round 3 of the men's singles at the 2019 Australian Open.
Roger Federer took on in-form British qualifier (and reformed bad boy) Dan Evans and secured a victory but only after winning 2 tie breaks. Evans will be mightily happy with his Australian excursion this year after winning through qualifying and then making it to the 2nd Round. Federer will be relieved to be in Round 3 without yet conceding a set. Surely these quick wins are going to pay dividends as he gets to the business end of the tournament next week?
Nadal blasted his way past the Australian journeyman Matthew Ebden and never looked in any trouble. Rafa's form is impressive and his ageing body is holding up nicely which all points to a long run this year for the Spanish clay court legend.
Two big shocks saw two young Americans beat much higher ranked opponents. France Tiafoe overcame in-form South African giant Kevin Anderson and then his compatriot Taylor Fritz battled his way back to beat mercurial Frenchmen Gail Monfils in 4 sets. Are we seeing the green shoots of an American resurgence in the men's game after so many years of underachieving?
Kyle Edmund's first round conqueror Thomas Berdych won again, this time cruising past Holland's tricky Robin Haase. Berdych looks fit and hungry again after some serious injuries and could have a good chance of going deep this year.
Andy Murray's conqueror Roberto Bautista Agut won again as did the Next Gen Australian star Alex de Minaur. de Minaur is in scintillating form having won his first ATP tournament last week in Sydney and now making it to the 3rd Round here. Let's hope his adrenalin levels continue and he doesn't suffer exhaustion. His game style requires huge amounts of energy but he's young enough to recover quickly.
Here is the full list of results from the matches played in the second round of the Australian Open men's singles on Day 3 of the 2019 Grand Slam:
2nd Round – Rod Laver Arena
1:56 hrs
M. Ebden
3 2 2
6 6 6
R. Nadal (2)
2nd Round – Rod Laver Arena
2:35 hrs
D. Evans (Q)
6 (5) 6 (3) 3
7 (7) 7 (7) 6
R. Federer (3)
2nd Round – Margaret Court Arena
3:52 hrs
A. de Minaur (27)
6 6 6 (7) 4 6
4 2 7 (9) 6 3
H. Laaksonen (Q)
2nd Round – Margaret Court Arena
2:59hrs
K. Anderson (5)
6 4 4 5
4 6 6 7
F. Tiafoe
2nd Round – Melbourne Arena
3:37 hrs
M. Cilic (6)
7 6 (9) 6 6
5 7 (11) 4 4
M. McDonald
2nd Round – Melbourne Arena
3:48 hrs
R. Bautista Agut (22)
6 6 3 6 6 6
3 1 6 7 8 4
J. Millman
2nd Round – 1573 Arena
1:54 hrs
J. Thompson
3 4 4
6 6 6
A. Seppi
2nd Round – 1573 Arena
3:24 hrs
G. Monfils (30)
3 7 (10) 6 (6) 6 5
6 6 (8) 7 (8) 7 7
T. Fritz
2nd Round – Court 3
2:40 hrs
S. Tsitsipas (14)
6 2 6 7
3 6 2 5
V. Troicki (Q)
2nd Round – Court 3
2:49 hrs
G. Dimitrov (20)
6 6 (5) 6 7
3 7 (7) 3 5
P. Cuevas
2nd Round – Court 8
1:19 hrs
T. Berdych
6 6 6
1 3 3
R. Haase
2nd Round – Court 8
2:02 hrs
Y. Nishioka
3 3 3
6 6 6
K. Khachanov (10)
2nd Round – Court 13
3:50 hrs
D. Kudla
4 5 6 7 (8) 4
6 7 3 6 (6) 6
D. Schwartzman (18)
2nd Round – Court 13
3:32 hrs
T. Fabbiano
6 (15) 6 6 3 7 (10)
7 (17) 2 4 6 6 (5)
R. Opelka
2nd Round – Court 20
2:54 hrs
S. Travaglia (Q)
6 3 6 4 3
3 6 3 6 6
N. Basilashvili (19)
2nd Round – Court 20
2:28 hrs
R. Albot
1 6 (2) 3
6 7 (7) 6
F. Verdasco (26)
Look ahead to the tennis year with our guide to every tournament on the ATP Tour, the WTA Tour and the ITF Tour
If you can't visit the tournaments you love then do the next best thing and read our guide on how to watch all the ATP Tour matches on television in 2019
To read more amazing articles like this you can explore Tennishead magazine here or you can subscribe for free to our email newsletter here