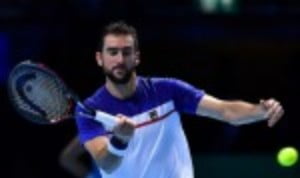 Cilic vows to fight on
Originally published on 14/11/17 00:00
Due to the round-robin format the 29-year-old still maintains a slim chance of qualifying for the knockout stage. If youth prevails over experience tonight, and Alexander Zverev defeats Roger Federer, then the Croatian will still be in the mix for a semi-final spot.
If the Swiss maestro defeats the talented German though, the Croatian will be eliminated and off to sunnier climes on Thursday.
"I'll definitely watch tonight, but I don't know who I will support," said the world No.5 after his tough loss to Jack Sock. "Anyway, I'm just going to try to focus on this last match, to play Roger, and still continue to play well.
"I am frustrated, a little bit disappointed with both losses. But it's part of sport so I'm just going to regroup, get a little bit refreshed and try to play another good match (on Thursday)."
Despite becoming a familiar face at the season-finale in recent years, Cilic has struggled in London. In eight previous matches at the ATP's blue ribbon event he has won just once.
A player of the Croatian's standing would expect a better return than one win in eight, however he believes his performances have merited more. "It's definitely not a great record," admitted the former US Open champion, when asked about his struggles at the O2 arena.
"I felt that I played well even last year. In those three matches that I played, even with Stan (Wawrinka), I had good chances at least to win. So I've been just, you know, a couple points away from closing those matches – I've been a little bit unfortunate.
"What makes the difference I think with these top guys, if you don't take your chances, it's one point here and there. I'm going to try to be a little bit more stubborn in my preparations maybe for my next match and hopefully again next year.
"Hopefully I'm going to perform better."