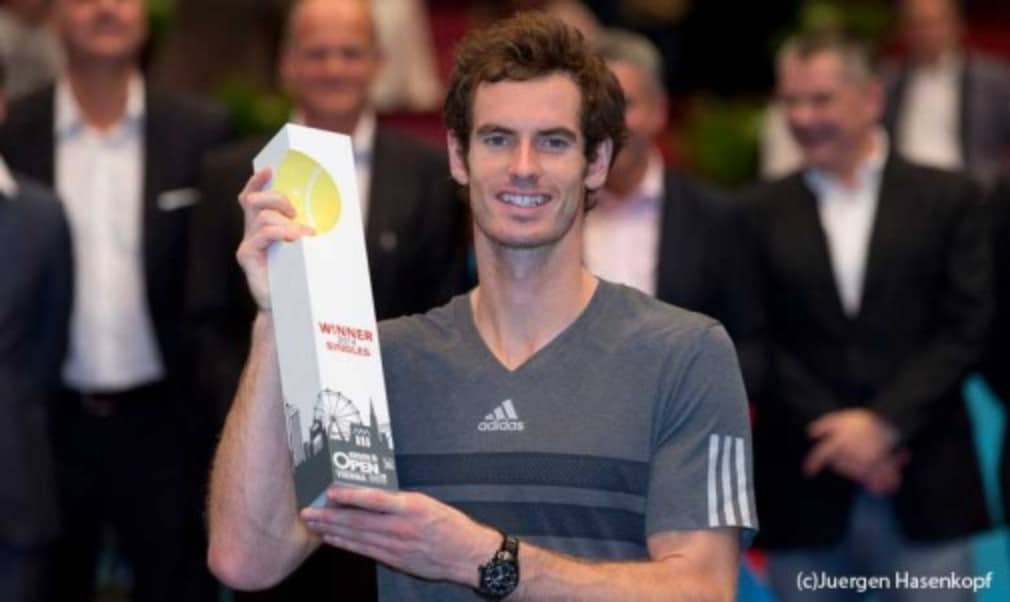 Cilic qualifies as Murray boosts London hopes
Originally published on 20/10/14
US Open champion Cilic will make his debut at the eight-man season-ending finale at London's O2 Arena while Murray defeated David Ferrer 5-7 6-2 7-5 in Vienna to win the Erste Bank Open and move up into eighth place in the Race for London. The Scot is hot on the heels of Berdych, whose victory at the If Stockholm Open saw him hold firm in seventh place as Ferrer and Milos Raonic slipped to ninth and 10th place respectively.
"We are still all in the same train and moving forward to London," said Berdych, who beat defending champion Grigor Dimitrov 5-7 6-4 6-4 in the final. "Some of us will stay just as close. I'm trying to play well and that's the best feeling."
With two weeks of the regular season remaining, there is still plenty to play for and Murray is in action at the Valencia Open this week as he bids to maintain his qualification bid.
"The next few weeks are extremely important," said Murray, who also won the inaugural Shenzhen Open last month. "Everyone is playing next week. I just need to win as many matches as possible to keep hold of the eighth spot or go higher."
US Open runner-up Kei Nishikori is on the verge of qualification, while Ferrer, Raonic and Dimitrov are all hoping to work their way back into the top eight this week. Ferrer, Berdych and Murray are all playing at the ATP 500 event in Valencia, while Raonic and Dimitrov are in action alongside Roger Federer and Rafael Nadal at the Swiss Indoors in Basel.
Cilic, who won the Kremlin Cup in Moscow with a 6-4 6-4 victory over Spain's Roberto Bautista-Agut, secured his qualification after it became certain that fourth-placed Stan Wawrinka could not drop below seventh in the race to London.
Cilic, as one of the year's Grand Slam champions, is guaranteed a place at The O2, even if he fails to finish in the top eight (providing he finished in the Top 20). Only one place is reserved for a major winner if they finish outside of the eight, and Cilic's spot was only secured when it was guaranteed that Australian Open champion Wawrinka would not drop out of the top eight.
"This was one of my childhood dreams,'' said Cilic. "It happened this year and I'm extremely happy about this success. It's another achievement in my career."
Emirates ATP Race to London standings (20/10/2014)
| | | | |
| --- | --- | --- | --- |
| 1 | Novak Djokovic | 9010 | Q |
| 2 | Roger Federer | 8020 | Q |
| 3 | Rafael Nadal | 6745 | Q |
| 4 | Stan Wawrinka | 4805 | Q |
| 5 | Kei Nishikori | 4265 | |
| 6 | Marin Cilic | 4150 | Q |
| 7 | Tomas Berdych | 4105 | |
| 8 | Andy Murray | 3885 | |
| 9 | David Ferrer | 3775 | |
| 10 | Milos Raonic | 3750 | |
| 11 | Grigor Dimitrov | 3555 | |