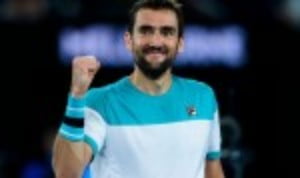 Cilic ends Edmund's run
Originally published on 25/01/18 00:00
Marin Cilic was in sizzling form as he dispatched the wounded British No.2 6-2 7-6(4) 6-2 to reach the Australian Open final for the first time in his career at the 10th attempt.
The Croatian was excellent against Rafael Nadal in the last eight and he was equally impressive against Edmund. He served magnificently and his forehand, which can be hit or miss, inflicted significant punishment.
Cilic may not quite be performing at the jaw-dropping level he produced when he triumphed at the US Open four years ago, but his standards remain exceptionally high.
Edmund's road to the semi-finals was eventful and arduous. Previous exertions undoubtedly took their toll on the body of weary Yorkshireman – and he required a medical timeout after the first set for an unspecified injury.
The 23-year-old did not seem visibly troubled or hampered when he returned to the court, but his booming forehand, which is so often the source of his inspiration, lacked the usual velocity.
"I think in the second set I was just a little bit up and down with my game," acknowledged Cilic, who will bid for a second Grand Slam title on Sunday.
"I was not getting enough returns back to pressure him [Edmund] in his service games and he began to release a couple of forehands. I just stayed mentally very focused and tried to play every single point. It was obviously very important to keep the pressure on in the tiebreak."
The Croatian realised that Edmund was struggling physically in the third set, and believes the Brit's busy fortnight had finally caught up with him.
"I noticed in the third set when I broke him that he just let a couple of balls go past him," he added. "I thought he might release a couple more forehands at that point but I could see that his movement was a little restricted, so I just tried to move the ball around.
"He [Edmund] is playing great tennis and has improved a lot over the last couple of years. Obviously he has started great this year and had an extremely tough run to the semis, a couple of five-setters, a couple of four-setters as well, so it definitely left some scars on his body."
It was the biggest match of Edmund's blossoming career but he showed no sign of nerves in the early stages. He traded with his high-calibre opponent and held his own from baseline, however he was unable to sustain it for long.
Cilic established a 4-2 lead after the Brit nudged a backhand wide. The 29-year-old was buoyant and he won a further two games on the trot to pocket the all-important opener.
Edmund refused to buckle in the second set and he remained involved. He created a few 0-30 situations on his opponent's serve, but a break-point was not forthcoming.
The tiebreak was a must-win for the Brit, but it was Cilic who showed just why he is a perennial Top 10 player and a major champion. A backhand winner down the line sealed the set for the excitable No.6 seed.
It was a long way back for Edmund, and he really began to toil. The contest was effectively over and it was simply a matter of time before Cilic became the first Croatian, male or female, to reach the championship match at the Australian Open.