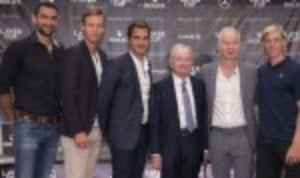 Chicago to host Laver Cup
Originally published on 24/09/17 00:00
It will take place will take place at the United Centre, one of the largest arenas in the USA with a capacity of 23,500, from September 21-23, 2018.
Tony Godsick, President and CEO of TEAM8, said: "On behalf of our partners Tennis Australia, USTA, and Jorge Paulo Lemann, it's my honour to announce that we are bringing this special event to the great sports city of Chicago and the amazing tennis fans of the American midwest.
"We had discussions with a number of U.S. cities eager to hold the second Laver Cup, but in the end, Chicago was the clear choice. Chicago has not hosted a major tennis event in more than 25 years and we are going to make sure their wait was worth it."
Katrina Adams, President and CEO of the United States Tennis Association, added: "We couldn't be more thrilled coming off an incredibly successful inaugural Laver Cup to be hosting this event in the United States next year.
"It's personally thrilling for the Laver Cup to be coming to my home town of Chicago. To be associated with the legacy of the United Centre and working with their team will allow us to showcase this event and attract more players to our sport for a lifetime."
The inaugural Laver Cup took place in Prague this weekend.