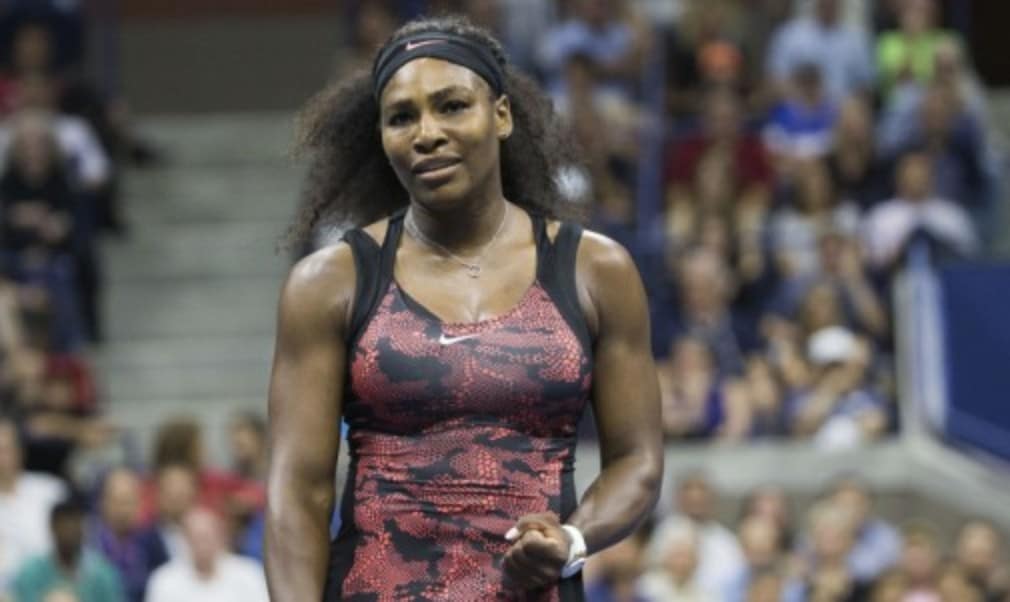 Champs rise and fall under Friday Night Lights
Originally published on 05/09/15
Fabio Fognini found Lourdes in New York City. Rafael Nadal insisted all was not lost. Serena Williams rocked and then steamrolled her way to the fourth round, and Bethanie Mattek-Sands ensured it was a hell of a ride.
Those who had a ticket for Friday's night session at the US Open would be well advised to frame it. Arthur Ashe Stadium's sundown showcase began shortly after 7pm; by 1.26am, eight breathless, breathtaking sets later, two former US Open champions left the court to deal with very different realities. Serena Williams is now four wins from the Calendar Slam, while Rafael Nadal was facing up to the disappointment of his first season without a major title since 2004.
On Wednesday Bethanie Mattek-Sands wore a Transformers Decepticon cap to her post-match press conference. Having just thrashed CoCo Vanderweghe in the second round, the American world No.101 had no fear of playing the villain in Serena's fairy tale.
"That's a fun role to play," said the 30-year-old. "Mess up the draw a little bit."
She wasn't kidding. The wild card with the tangerine-tipped locks was on fire from the outset, building a 3-0 lead as Williams made another slow start in New York, overhitting as she tried to out-bully Mattek-Sands' aggression. For a time it worked, but the errors quickly racked up as Williams let the first set slip away.
Anxiety broke out in the stands – these people were here to be a small part of history, after all. "I usually don't have a cheering crowd for me, so it definitely feels good," Williams said. "They usually cheer for the underdog, but I think everyone wants to see me go far, I guess, this year.
"So it's really cool to have the crowd not cheering for the underdog this time. But I understand obviously. It just feels really good. It feels amazing every time I play."
They cheered, they howled and they gasped as Mattek-Sands recover from 5-3 down to move within two games of one of the great Grand Slam upsets. That, however, was as close as she came. Williams had already been finding her marks as Mattek-Sands dug deep to maintain parity, but with the second set gone she was no match for Serena in front-runner mode.
At one point, Mattek-Sands played the perfect approach shot, deep and wide enough to force Williams onto the back foot. No matter – sliding into a reverse splits, Williams crushed the ball cross-court for a clean winner, holding the pose as she pumped her fists. It was her 51st of her 53 winners, landing her the seventh of eight straight games: 3-6, 7-5, 6-0.
"I'll be cheering for her," Mattek-Sands told Williams at the net. "Obviously I know she's going for the record. I thought she was playing awesome."
"I've never felt invincible – I've never used that word to describe me ever", insisted Williams, whose fourth-round opponent, Madison Keys, booked her place by beating Agnieszka Radwanska for the first time.
Survive Keys, and Venus Williams is expected to be waiting in the quarter-finals for her little sister, the 27th instalment of a classic tennis sibling rivalry.
Keys, for her part, is happy to inherit the villain tag from Mattek-Sands and halt Serena's run. "I'd be okay with it," she said when asked how it would feel to stop the world No.1's historic run in its tracks. "What am I going to say? I want her to beat me?"
Williams will approach the match as she has all others this season: one point at a time.
"I've never been on this train," Williams said, trying to express how it felt to stand four wins from her 22nd Grand Slam and the first Calendar Slam since 1988, both feats that would emulate Steffi Graf. "It's different. It's definitely different. If I'm standing on the middle of a track, I'm definitely going to get derailed; I have to make sure that I'm on the train and not, you know, in front of it."
Rafael Nadal's career reached another crossroads at Flushing Meadows as his proud record of winning a major title every year since his first in 2005 came to an end at the hands of Fabio Fognini, so often the thorn in his side in 2015.
Nadal's third-round exit, his earliest since 2005, added another unwanted milestone to his record; after winning all 151 of his Grand Slam matches when leading by two sets to love, the Spaniard succumbed to a five-set fightback from the enigmatic Fognini, who peppered winners and stealthed into the net time and again, such was his read of Nadal's strategy.
Fognini hit 70 winners and 57 unforced errors, Nadal 30 and 18. "With Rafa, you have to risk," Fognini insisted. "You have to attack him when you have the chance. He is one of the best passing player in the world, if not the best. That's what I think I was doing really well tonight."
Was he ever. Even in losing the opening two sets, Fognini proved himself capable of hitting through Nadal, particularly off the forehand, with the added dimension of coming forward to showcase his stellar touch at net. Scramble as he might – and he did time and again to great effect – Nadal was powerless to disarm Fognini as he began pulling the trigger from all corners of the court from the third set.
By the time the match reached the fifth set, a crowd that had come to raise the new roof in Rafa's honour were gunning every bit as much for Fabio. The Italian had beaten Nadal twice already this year, but – perhaps more staggering – had lost all seven of his hard-court matches before arriving in New York. The duo traded seven breaks of serve – six in consecutive games from 2-1 – before Fognini finally held to seal victory in three hours, 46 minutes.
Now he finds himself deeper in the US Open draw than ever before, facing Feliciano Lopez in the last 16.
It was a sobering night for Nadal. Afterwards he refused to make excuses – "It was not a match that I lost, even if I had opportunities; it's a match that he wins" – but the disappointment was palpable. Physically he felt "perfect" and took solace in his ability to fight to the last, but rued the lack of winners he managed to muster.
"For me, was amazing [to] win 10 years in a row a Grand Slam," Nadal said. "I think nobody did. You can imagine how difficult is make that happen.
"The sport for me is simple, no?" he said. "If you are playing with less confidence and you are hitting balls without creating the damage on the opponent that I believe I should do, then they have the possibility to attack. If you hit shorter…is not you run slower, but the opponent take the ball earlier so it looks like you are slower."
Nadal leaves New York with "a base", a tenacity rediscovered, and plenty to work on if he is to return to the top in 2016 after this, his most disappointing Grand Slam season in over a decade.
For Fognini, a little divine intervention has gone a long way. "Two sets to zero against Rafa, maybe you have to go to Lourdes," he said. "I went there tonight and everything was in a perfect way."