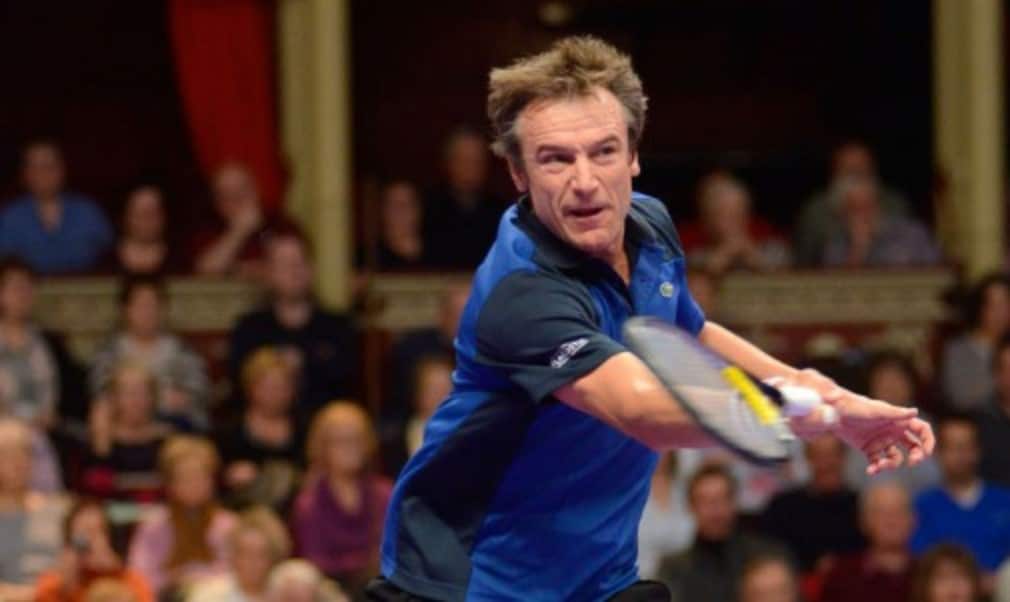 Champion's Moment: Mats Wilander
Originally published on 20/09/15
Even the great Bjorn Borg, arguably Sweden's most famous sportsman, only won the Davis Cup once, in 1975; it was in the 1980s that the Scandinavian nation enjoyed its best period, reaching the final for seven consecutive years between 1983 and 1989.
Wilander, who won seven Grand Slam titles between 1982 and 1989, played a key role in Sweden's success, lifting the coveted trophy three times in that period.
He made his debut in 1981 as a 16-year-old, losing both of his singles rubbers to Peter McNamara and Paul McNamee in a 3-1 defeat to Australia, but he remains the youngest man to play a live World Group singles rubber at the age of 16 years and 321 days.
Win tickets to the Champions Tennis at the Royal Albert Hall
Wilander, who won his first major at the 1982 French Open, went unbeaten in the Davis Cup in 1983, but despite his best efforts, beating both Pat Cash and John Fitzgerald, the Swedes were beaten 3-2 by Australia in the final at Kooyong.
The following year he extended his unbeaten streak on international duty to 14 matches, and although his winning run came to an end at the hands of John McEnroe, it mattered little as the Swedes upset a star-studded American team to win the title.
As world No.4 and a three-time Grand Slam champion, Wilander was the star of the young Swedish team, but with an average age of 20 they were underdogs against Arthur Ashe's formidable American team which featured the two best singles players in the world; John McEnroe and Jimmy Connors, as well as the unbeaten doubles pairing of McEnroe and Peter Fleming.
Admittedly, home advantage played a part, and the decision to turn Gothenburg's Scandinavium ice rink into a clay court helped nullify the US threat. But after Wilander crushed Connors in straight sets, Henrik Sundstrom stunned world No.1 McEnroe (also in three sets) to give the hosts a 2-0 lead after the opening singles rubbers.
With the next day's doubles match a must-win for the United States, Fleming double faulted on match point as Anders Jarryd and Stefan Edberg claimed an unlikely 7-5 5-7 6-2 7-5 victory, and with it a second Davis Cup victory for Sweden.
It was the start of a golden era for Sweden's Davis Cup team and under the captaincy of Hans Olsson they reached seven finals in as many years, retaining their title in 1985 with a 3-2 victory over West Germany.
Wilander was absent for the final when the Swedes surrendered their crown to Australia in 1986 – he married South African model Sonya Mulholland a week later and claimed he "wouldn't be able to concentrate 100% on the match", but returned to Davis Cup duty in 1987 to help his country win a third title in four years when they whitewashed India 5-0 in the final.
Wilander, who compiled a 43-18 record in Davis Cup, played two more finals but lost on both occasions to Boris Becker's West Germany, in 1988 and 1989. He was named Sweden's Davis Cup captain in 2003, and led the team for seven seasons before stepping down in 2009.
"I would never trade a Davis Cup victory for, let's say, another singles Grand Slam," Wilander told ITF's Davis Cup Idols in 2011. "To me the whole Davis Cup experience was not just about winning, but it was more about doing something together with your friends. It's much more than just the weekend. It was a very special time."
Champion's Moment is brought to you by Champions Tennis at the Royal Albert Hall. Champions Tennis takes place from Wednesday, December 2 – Sunday, December 6, 2015 and is the season-finale to the ATP Champions Tour, where former Grand Slam Champions, World No. 1s and national icons battle it out once more. For more information and to Book tickets visit www.royalalberthall.com/tennis or call +44 (0) 20 7070 4404