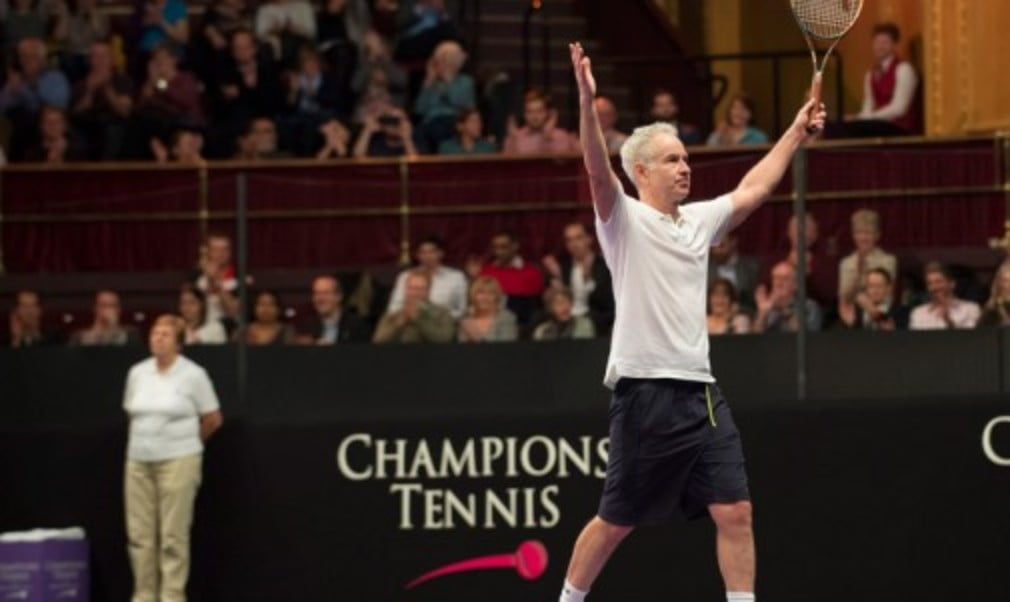 Champion's Moment: John McEnroe
Originally published on 18/09/16 00:00
The former world No.1 broke countless records in the competition. He is the most successful American player in history, with 59 wins (41 singles, 18 doubles) and in 14 years he only lost 10 rubbers.
The seven-time Grand Slam champion is the only player to win a maximum of eight singles rubbers in a single year more than once, in 1979 and again in 1982.
The Davis Cup bookended McEnroe's career. In 1992, aged 33, the former world No.1 played his final Davis Cup rubber, partnering Pete Sampras to victory in the doubles as USA defeated Switzerland to win 3-1 in the final at Fort Worth in Texas, 14 years after he first lifted the prestigious trophy.
But back in 1978, his achievements were all the more remarkable. At the tender age of 19 years and 295 days, McEnroe became the first player since the introduction of the final round to make his Davis Cup singles debut during the final.
Six players have gone on to match McEnroe's feat, including Henri Leconte (1982), Pete Sampras (1991) and Kyle Edmund (2015) but none won their first rubber.
Not only did McEnroe win both of his singles rubbers in the 1978 final as USA defeated Great Britain 4-1, but he did so for the loss of just 10 games – beating Britain's John Lloyd 6-1 6-2 6-2 and Buster Mottram 6-2 6-2 6-1 to seal the tie at Mission Hills Country Club in California.
"Everything in that final just worked out perfectly for me," admitted McEnroe. It was the only time that I had success in Palm Springs in my whole career. I didn't like the dryness. But I was in a zone when I played Lloyd and Mottram.
"It was competitive when I played the final match, because Mottram had beaten [Brian] Gottfried, but I look back and wish everything in my career had been that easy. I only lost ten games in two matches. Turned out not everything was that easy."
Win tickets to Champions Tennis at the Royal Albert Hall
"It was almost a privilege to be on court against him," Lloyd later recalled. "Some of the tennis he played was on a different planet to what I was used to. It was an annihilation."
It was quite an introduction to the Davis Cup for McEnroe, who made an unbeaten start to the team competition, winning 14 consecutive rubbers before eventually tasting defeat against Jose Luis Clerc on the clay in Buenos Aires in 1980, but not before winning a second Davis Cup title in 1979, when the Americans beat Italy 5-0 in the final in San Francisco.
Wherever McEnroe played, records tumbled. Perhaps his greatest feat was his unbeaten run in 1982 – when he achieved what no other man in Davis Cup history has managed since; he won all eight singles rubbers and four doubles matches to almost single-handedly secure USA a 28th Davis Cup title, and his fourth in five years.
But it could nearly have been so very different. In St Louis, Missouri in the fifth rubber of USA's quarter-final against Sweden, McEnroe held off Mats Wilander 9-7 6-2 15-17 3-6 8-6, in a match lasting six hours and 22 minutes – in what was the longest singles match since the challenge-round format was discarded in 1972.
''At one point I thought it was going to go on forever,'' said McEnroe after coming within two games of defeat.
That record stood for 33 years, when it was broken in March 2015 by Joao Souza of Brazil and Argentina's Leonardo Mayer, who won 15-13 in the fifth set after for six hours and 43 minutes.
Champions Tennis at the Royal Albert Hall is the season ending finale of the ATP Champions Tour. Former Grand Slam Champions, World No.1's and national icons compete in one of London's most famed and iconic venues.
This year from 30th November – 4h December, Champions Tennis celebrates its 20th year, with John McEnroe, Pat Rafter and Tim Henman confirmed to play, and more players to be announced in due course.
Be part of the showpiece event of the festive season, buy your tickets here: www.championstennis.co.uk/tickets/