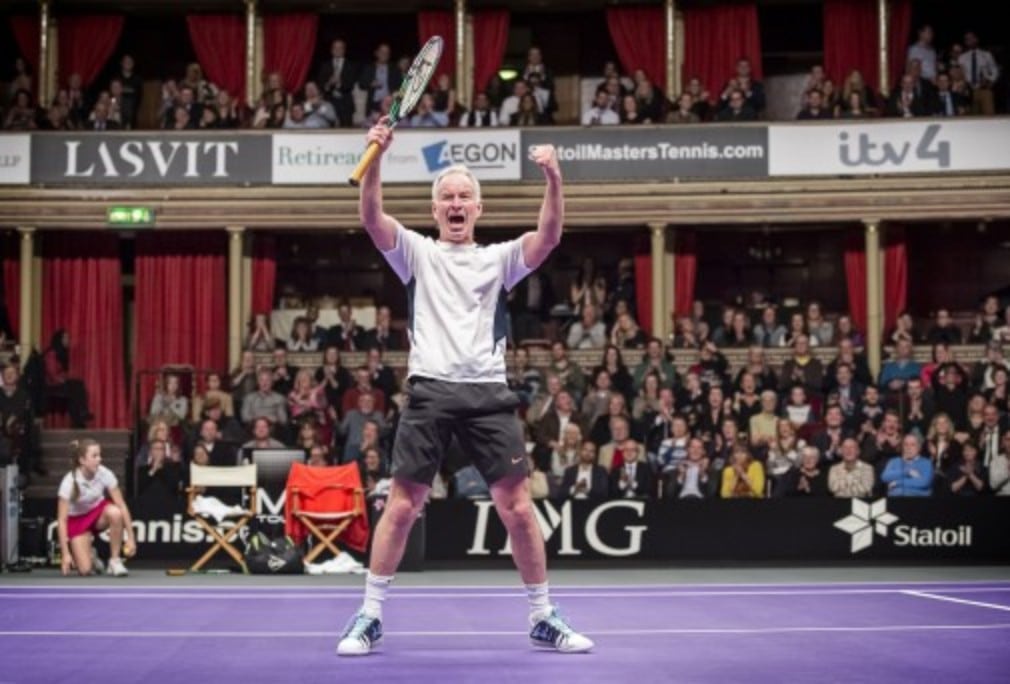 Champion's Moment: John McEnroe
Originally published on 18/09/15
John McEnroe broke countless Davis Cup records and is credited with reviving American interest in the competition.
It is fitting that his final Davis Cup performance was a triumphant one to win his fifth and final title against Switzerland in 1992.
The Davis Cup bookended his career. He won his first title in his rookie year in 1978 – the year before he won his first Grand Slam at the US Open – before his final one came 14 years later aged 33.
After making his Davis Cup debut in the doubles against Chile in the Inter-Zonal Final in September 1978, McEnroe made his singles debut in style as the USA defeated Great Britain 4-1 in the final at Mission Hills Country Club in California.
The 19-year-old, picked by captain Tony Trabert after reaching the semi-finals of the US Open in his first year as a professional, won both singles rubbers for the loss of just 10 games, and it was his 6-2 6-2 6-1 win against Christopher Mottram in the fourth rubber that sealed the tie for the Americans and deny Great Britain a first Davis Cup title since 1936.
Win tickets to the Champions Tennis at the Royal Albert Hall
It was quite an introduction to the Davis Cup for McEnroe, who made an unbeaten start to the team competition, winning 14 consecutive rubbers before eventually tasting defeat against Jose Luis Clerc on the clay in Buenos Aires in 1980, but not before winning a second Davis Cup title in 1979, when the Americans beat Italy 5-0 in the final in San Francisco.
The left-hander avenged that defeat to Clerc the following year, triumphing 7-5 5-7 6-3 3-6 6-3 as the Americans regained their title, beating Argentina 3-1 in the final in Cincinnati.
In 1982, McEnroe achieved what no other man in Davis Cup history has managed since; he won all eight singles rubbers and four doubles matches to almost single-handedly secure USA a 28th Davis Cup title, and his fourth in five years.
Despite losing just three matches on the ATP Tour in 1984, he was unable to guide the USA to victory that year as they fell 4-1 to Sweden in the final.
McEnroe played just four ties between 1985 and 1991 and although USA won the competition again in 1990 and reached the final the following year, it would be a decade before McEnroe tasted victory in the Davis Cup.
Taking on first-time finalists Switzerland at Fort Worth in Texas in the 1992 final, the formidable team of Andre Agassi, Jim Courier, Pete Sampras and McEnroe were heavy favourites against the two-man Swiss team of Jakob Hlasek and Marc Rosset.
With the tie finely poised at 1-1 he partnered Pete Sampras in the doubles after Rosset had upset Courier in the opening day's singles rubbers.
McEnroe double faulted at set point in the first-set tiebreak, and then dropped his serve at 5-4 in the second set, which they lost on another tiebreak.
"I felt furious and humiliated," McEnroe recalled in his autobiography Serious. "This was my final Davis Cup; I couldn't go out on a loss – to the Swiss!
"I began yelling at Pete, trying to psych him up; trash-talking at Jakob Hlasek and Marc Rosset, the Swiss team. Somehow we managed to hang on and take the third set, 7-5, but by the time we went into the locker room for the ten-minute break, I was in some kind of altered state. All my fear and anger and frustration and sorrow had built up to the point where smoke was practically coming out of my ears."
Like some kind of Jekyll and Hyde combination, the ice-cool Sampras was the perfect antidote to the fiery McEnroe, and the pair sailed through the final two sets to win 6-7(5) 6-7(7) 7-5 6-1 and put USA back in front, before Courier sealed a 3-1 victory the following day with victory in the fourth rubber against Hlasek.
McEnroe, who played 30 ties for USA over a 15-year period, winning 59 of his 69 rubbers played (41-8 in singles, 18-2 in doubles), did not have the same level of success as captain. He was appointed in September 1999, but stepped down in 14 months later following a 0-5 semi-final whitewash by Spain.
"I was privileged to have been selected and honoured to have served as captain," said McEnroe, who was succeeded by his brother Patrick. "Unfortunately, for a variety of reasons I was disappointed that I was unable to have a great impact as captain of the team."
Champion's Moment is brought to you by Champions Tennis at the Royal Albert Hall. Champions Tennis takes place from Wednesday, December 2 – Sunday, December 6, 2015 and is the season-finale to the ATP Champions Tour, where former Grand Slam Champions, World No. 1s and national icons battle it out once more. For more information and to Book tickets visit www.royalalberthall.com/tennis or call +44 (0) 20 7070 4404