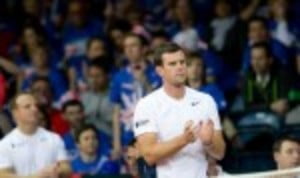 Business as usual for Team GB
Originally published on 01/03/16 00:00
Captain Smith was the mastermind behind Britain's historic victory in Ghent in November as the team, led by Andy Murray, left USA, France and Australia in its wake before defeating Belgium in the final.
But with the prestigious trophy in British hands for the first time since 1936, Smith insists that he has no intention of moving on in search of a new challenge.
"What we went through last year was so intense, you could think it would be tough to keep going, but it's absolutely not," Smith told Press Association Sport. "The competition is amazing and we'll relish it.
"We had so many years so far away from this environment that, believe me, when we get to Birmingham and we've got the trophy that's still ours, and we've got guys like Andy and Jamie, it's an amazing feeling. And we're so close as a unit that every time we get together it's special.
"I love doing this. For me personally, trying to plot how we can overcome someone like Kei Nishikori is great. Anyone you speak to that has been Davis Cup captain will tell you it's very special and it's nice to be able to continue doing it."
World No.2 Murray returns to action following the birth of his daughter Sophia as Team GB hosts Japan at the Barclaycard Arena in Birmingham. It is the first meeting between the two nations since 1931, and with world No.6 Kei Nishikori leading the Japanese challenge, Smith expects a tough tie.
"I think it's great we've got another home tie," Smith said. "We've obviously had a lot of them but it's great to come out as defending champions. At the same time, we've all been around long enough to know that it starts again and we're not here to celebrate, we're here to win.
"We can enjoy going out there with confidence because we are defending champions but we're very much back to business as usual. We can't underestimate what is a very good Japanese team."