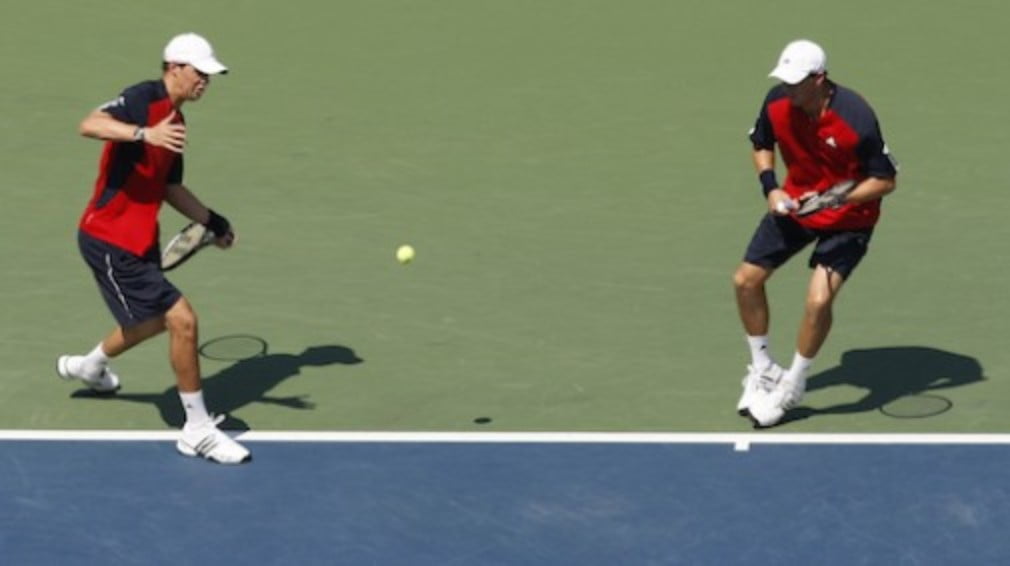 Bryans, Nestor and Zimonjic in winner-takes-all final
Originally published on 26/02/10 11:21
After eleven months, 143 matches, and nine titles between them, the Bryan brothers face Daniel Nestor and Nenad Zimonjic in a winner-takes-all Masters Cup doubles final.
Fittingly, both the world No.1 doubles ranking and the result of the ATP Race will be decided when the pairs meet in Sunday's season finale.
Nestor and Zimonjic, currently second in both standings, briefly topped the rankings after taking to court before the Americans after a crushing 6-1 6-3 semi-final victory against Pablo Cuevas and Luis Horna.
But the 30-year-old twins soon recovered the high ground with a 6-4 6-4 win against Poles Mariusz Fyrstenberg and Marcin Matkowski.
The top two teams have met in three finals already this season, with Nestor and Zimonjic winning in Toronto and Hamburg while the Americans took the Rome event.
Both the world No.1 doubles ranking and the ATP Race are up for grabs when the pairs meet…
"They've had the best of everyone in the last five years," said Nestor, bidding to retain the year-end title he won with former partner Mark Knowles. "They've been the best team on and off for five years now. They're going to go down as one of greats of all time, they've done a lot for doubles.
"It's always a great opportunity to play the best team in the last match of the year for the No.1 position. It will be very exciting to play them again."
Saturday's victory for Nestor and Zimonjic marked sweet revenge for the veteran pair after losing the French Open final to Horna from Peru and Cuevas from Ecuador. But, as the scoreline suggests, this was an altogether different affair.
"We didn't expect to win that easily," said Nestor. "But we're deserving to go through to the final – we've been playing great for three straight matches.
"Paris was totally different conditions. We were playing through rain in that match on clay, their favourite surface. It was very heavy and slow. We were still hoping to win that match obviously, but, you know, these are more suitable conditions for us."
The Canadian and Serb ran away with the first set in just 18 minutes, breaking the shaky Cuevas serve twice. They maintained focus in the second, which began and ended with breaks on Horna's serve.
Zimonjic secured three match points with a stab volley winner, with the Serb finishing off the 46-minute rout with another untouchable volley.