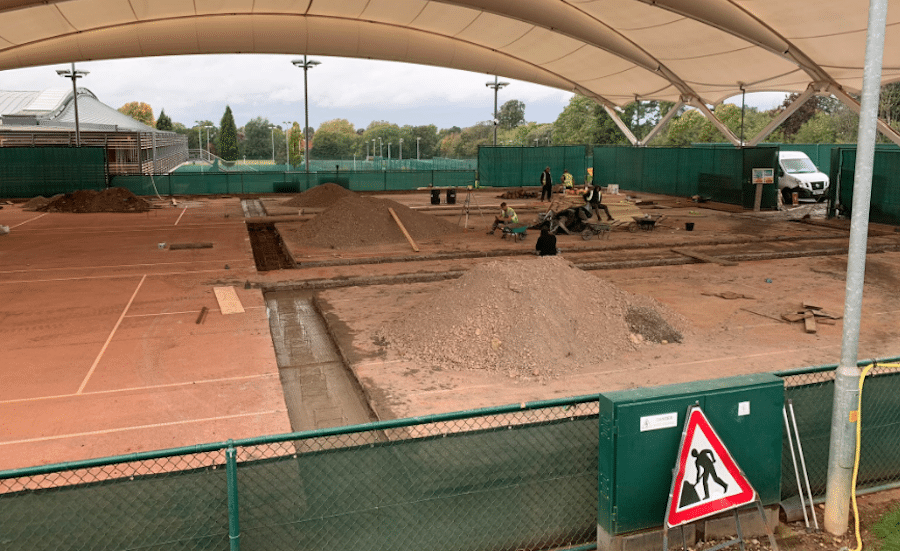 British tennis governing body, the LTA, slammed for removing tennis courts at their own headquarters
The LTA (Lawn Tennis Association) have decided to dig up clay tennis courts at the home of British tennis to replace with them facilities to play the new up and coming sport Padel
A photo posted on Twitter of the home of the LTA in Roehampton, South London, shows two of the clay tennis courts at the National Tennis Centre (NTC) are currently being replaced with Padel courts. Padel is a new sport to the UK but is growing in popularity throughout Europe. The sport is a hybrid of tennis and squash, played on a small court with walls using bats and a ball similar to tennis. The sport is rumoured to be the second most popular sport in Spain just behind football and ahead of traditional tennis.
The #padel courts coming along nicely at the @the_LTA #NTC Looking forward to playing on these soon. pic.twitter.com/t9qeZvAvOj

— Sam Richardson (@samtennis) October 11, 2019
The LTA have recently taken on responsibility for the growth of Padel in the UK as tennis is the nearest sport to Padel, so it would seem an obvious choice for them to administer the growing sport.
However, by the reaction on Twitter from a number of tennis fans and well know names, it would seem that a many tennis fans and players in the UK are concerned by the trend and believe that the LTA should be focussing on tennis.
Legendary Australian doubles specialist Todd Woodbriodge commented that it didn't male sense to him to dig up clay tennis courts as the Australian tennis body had installed clay courts in Australia and now Ashleigh Barty has gone on to win the French Open.
Some of the other Twitter comments in reaction to the photo can be read below:
Doesn't make sense TA built courts in Melbourne and Brisbane and we have ourselves a @rolandgarros champion in @ashbar96 ?

— Todd Woodbridge (@toddwoodbridge) October 12, 2019
It's fine though cause no British players officially train there ???‍♀️

— Tara Moore (@TaraMoore92) October 12, 2019
Oh my god. Self destruction. Another great example of what can only be described as LTA STUPIDITY

— Sam (@sammyb_121) October 12, 2019
The LTA have an awful business model in place for a multi million organisation. It really needs radical changes from top to bottom. We are blessed to generate over £40m every year from Wimbledon. Yet we are losing tennis courts all over UK, inadequate indoor courts, no arena…..

— Pavvy G (@pavyg) October 12, 2019
To read every issue ever published of the world's best tennis magazine, tennishead, visit our 'Magazine Archive' and you can buy a copy of the latest issue here.To win incredible tennis prizes for free, enter our latest 'Competitions'. For all the breaking tennis news and exclusive player interviews, visit our 'News' section. For the latest racket, ball, shoe and clothing buyers guides plus video play tests, visit our 'Gear' section