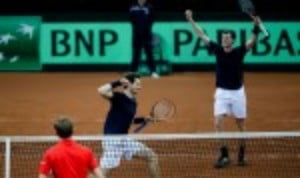 Britain win doubles rubber
Originally published on 28/11/15 00:00
Belgian captain Johan van Herck nominated his team of David Goffin and Steve Darcis one hour before play was due to start. They had not played together since 2013.
"We decided this morning after the warmup," van Herck said. "My first plan was always to play David and Steve, but I wanted to see how David got out of his match. So we did the warmup and then we decided."
The Murrays took a tight first set with Andy saving a break point at 4-4 and then the Brits broke Goffin to take the set 6-4 in 40 minutes. The Belgians leveled the rubber taking the second set, with the only break of serve coming in the third game when Jamie dropped his serve.
The British pair took a topsy-turvy third set which contained five breaks of serve, but the younger Murray held serve three times to give the British pair the set 6-3 in 39 minutes. With the brothers one set from victory, the Belgians fought hard, and a scintillating fourth set saw Darcis broken in the third game, only for Jamie Murray to face seven break points on a nine-minute service game.
Darcis dropped his serve once again before Jamie Murray served out the match, the British pair taking their second match point to seal a third victory as a team in the 2015 competition. They defeated Frenchmen Nicolas Mahut and Jo-Wilfried Tsonga in the quarter final and Sam Groth and Lleyton Hewitt in the semi-final against Australia.
"Obviously to play in a Davis Cup Final with your brother and to win a point for your country is great," Andy said. "We may never get the chance to do that again. So [we] have to enjoy that."
Andy Murray and David Goffin will contest the first of the reverse singles rubbers on Sunday. Captain Smith will have to decide if he nominates Kyle Edmund, who was defeated by Goffin in five sets on Friday or James Ward to play the fourth singles match.
If the tie is level after the first of tomorrow's singles rubbers then either Ward or Edmund could face Steve Darcis who has an unbeaten record when it comes to deciding Davis Cup matches. The last time was when he defeated Argentina's Federico Delbonis in the semi-finals in September. Or van Herck may opt for Ruben Bemelmans, who lost to Andy Murray in straight sets on Friday.
If Murray defeats Goffin – the Belgian has never taken a set off Murray – then Great Britain will be crowned 2015 Davis Cup champions.
"Obviously to be up 2-1 gives us a better chance of winning," said Murray. "Only having to win one of those two is better than having to win both. But I'm not getting ahead of myself. I know how good a player Goffin is. You don't get to be ranked 15 in the world in today's game with the depth that there is if you're not pretty good at the game."
Van Herck said: "Not a lot of people gave us a chance to win against Argentina in the semis, and we did it. So now tomorrow there's a huge task ahead of us. Anything can happen in Davis Cup."