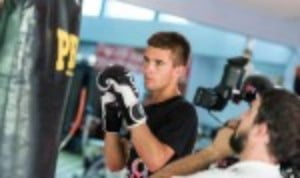 Boxing Clever: Coric reflects on breakthrough year
Originally published on 23/09/15
The 18-year-old is the youngest player in the world's Top 100 and has soared up the rankings after being ranked outside the Top 200 last summer, claiming the scalps of both Rafael Nadal and Andy Murray.
"I mean for sure I felt very proud and I'm still very proud, it's unbelievable thing, I've beaten Nadal and also Murray when I was 17 and 18 years old," Coric told CNN's Open Court. "It gave me confidence that I can play with these big guys, and actually I started to believe even more that I can become a top 10 tennis player.
"I think everyone's goal is to be No.1 in the world, and I think that's normal. I am very far away from that and I need to work so much harder. I need to work very hard just to get there, but you know that's my goal."
Coric, who is now coached by former Australian Open champion Thomas Johansson, has started boxing in an attempt to build up his strength and fitness.
"They are similar sports," he said. "It's one on one, there is no team. Is only me against my opponent."
CNN sat down with Borna Coric to reflect on what has been a breakthrough season and spoke to his mentor and tennis legend Goran Ivanisevic
The full 'Open Court' episode can be seen at the following times on CNNI: Saturday 26 September at 1730 and Sunday 27 September at 0730 and 2230 BST.