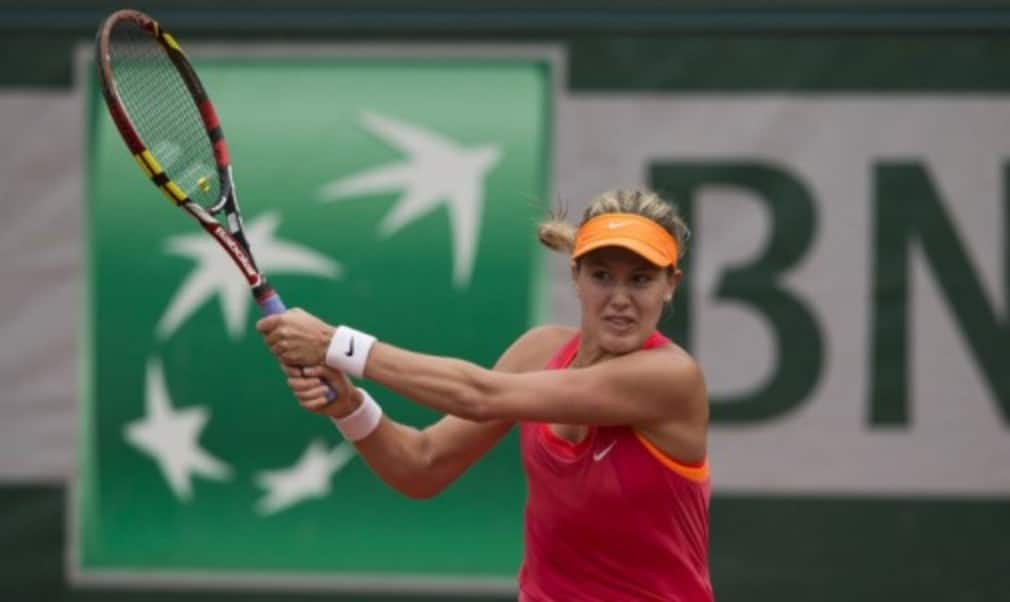 Bouchard ready for semi-final battle with Sharapova
Originally published on 04/06/14
The pair both showed their fighting qualities to reach the last four in Paris, Bouchard battling back from 5-2 down in the first set and 4-1 down in the third to beat Carla Suarez Navarro and Sharapova holding off a strong challenge from Garbine Muguruza to win in three sets. The Russian has come out on top in both previous meetings against Bouchard, winning 11 games in a row in to win 6-2 6-0 in Miami last year and also beating her in the second round at the 2013 French Open.
But Bouchard, 20, has come on leaps and bounds in the past six months, reaching the semi-finals of the Australian Open and also recently winning her first WTA title. She is the first Canadian to reach two Grand Slam semi-finals and insists she will not be overawed by the occasion or the opponent on the other side of the net.
"We're not friends," she said. "As a child I looked up to her and I remember watching her in the finals of Wimbledon and thought what she was doing was so cool and I wanted to do the same thing," said the Canadian, who met and had her photograph taken with Sharapova as a youngster in Miami. "For sure I respect her. But now, you know, we're in the semis of a Grand Slam, so I'm going to respect her but not put her too high on a pedestal and really just battle. That's what it's going to be. I will leave everything on court and just focus on myself and try my best to win.
"It's very exciting for me to play against such a champion. It's going to be a good battle on the court. I think that this is what I should expect in a Grand Slam semi-final, to play against such players. She was No. 1 in the world and she's won several Grand Slams, so it's going to be a great experience for me. I'll put up a good fight on the court, and we'll see what happens."
After a bright start to her career, comparisons have been made between Bouchard and Sharapova. There is no doubt the Canadian possesses the same fighting spirit and ambition as the four-time Grand Slam champion and she also appears to share the same attitude towards on-court friendships. Both have spoken this week about treating tennis as a profession, with Bouchard saying she doesn't think "the tennis tour is the place to have friends".
"She's a great champion," said Bouchard. "So to be seen as the next of someone who has won four Slams and has been No. 1 in the world is a compliment. But at the same time, of course I'm my own person and I just want to be myself on the court, and try and achieve what I want to achieve and just be seen as that."
Asked about meeting Sharapova for the first time in Miami as a youngster, Bouchard said: "I was watching the Miami tournament and a photo was taken of her and me when I was seven or eight. And then after this, I remember when she won Wimbledon I was watching her on TV, and I thought 'wow, what she's doing is cool, I want to do the same'. I was playing tennis already at the time. She was a source of inspiration for me at the time, and therefore, she was an idol for me when I was younger. But now we have reached the semi-finals of a Grand Slam. Now she's a tennis player and I respect her but I will do my best during the match."