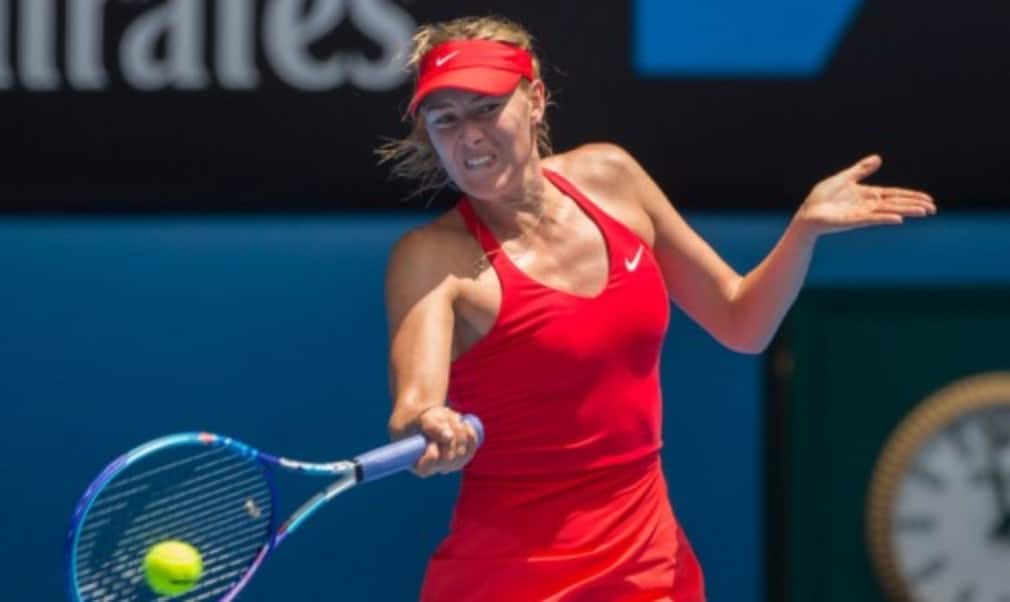 Bouchard next for Sharapova
Originally published on 25/01/15
Sharapova had the more comfortable victory on Sunday, beating Peng Shuai 6-3 6-0, while Bouchard survived a second-set wobble to beat unseeded Romanian Irina-Camelia Begu 6-1 5-7 6-2 in the fourth round.
Forced to save two match points during her second-round win over Alexandra Panova, Sharapova showed her battling qualities once again against Peng, and Bouchard displayed similar resolve as she recovered to beat Begu.
"Personally I don't know Genie very well," said Sharapova when asked if she could see similarities between her and the 20-year-old. "As a tennis player she's a big competitor. She's an aggressive player as well that likes to take the ball early and dictate points.
"She stays really close to the line, she likes to dictate the points. I feel that's where she's hurt a lot of players and been really successful. She's been playing really well in this tournament and also in the Slams last year. I expect her to come out and play a really good match."
She added: "When I was coming up, I was compared to [Anna] Kournikova for many years in my career and still occasionally name always comes up in interviews and articles. That's just part of it, part of the game, part of the business. It's understandable.
"As I have said, I believe I was still a teenager, I don't want to be the next anyone. I want to be the first Maria Sharapova. And that's how I've been throughout my whole career. And we all want to create our own path and go through our own career. And we're all destined for some sort of thing. We work extremely hard at a sport, and that's what we want to be known for."
Sharapova leads their head-to-head 3-0, but Bouchard's rise up the rankings has been meteoric, and she has improved rapidly since their first meeting less than two years ago. She won just two games when they first met in Miami in 2013, when the Canadian was ranked No.123 in the world.
Their last meeting in the semi-finals at Roland Garros last year was decidedly more competitive. Bouchard took the opening set before Sharapova won 4-6 7-5 6-2 en route to her fifth Grand Slam title in Paris.
"I think it's always great to play the best players in the world," said Bouchard. "We've had a couple matches, and a good match last year. I think I was close. It was just a tough battle. But I think I've progressed a lot since then, and I definitely want to keep playing my game no matter what. Really kind of take it to her, go for my shots. That's what I want to do on the court. And it's more fun when I play that way, too."
The No.7 seed enjoyed a breakthrough season in 2014 – reaching the semi-finals in Melbourne on her Australian Open debut – having failed to qualify 12 months previously.
It was not a flawless performance from Bouchard by any means, but she showed experience beyond her years to get the job done regardless. She looked to be well on her way to victory after winning nine of the first ten games to lead 6-1 3-0, but appeared to lose her way a little as Begu battled back to force a decider.
Breaking the Romanian in the first game put Bouchard back in control, and a second break put her within touching distance of the quarter-finals as she served out the match.
"It's disappointing for me because I want to play so well and I want to be perfect," said Bouchard. "That's not possible. I think I started being a bit less aggressive, a bit too passive, and you know, that's not my game at all. But I learned a lot from it and I'll try to make sure it doesn't happen next time. I'm happy that I could regroup and play a bit better tennis in the third. I want to build on that for the next match."
Sharapova followed Bouchard onto Rod Laver Arena, and soon joined the Canadian in the last eight. The No.2 seed made just 45% of her first serves, but 27 winners and just 15 unforced errors helped her on her way to a straight-sets victory.
An untimely double fault saw Sharapova undo all her hard work as she gifted Peng a break straight back in the seventh game, but she responded immediately to break once again, and she didn't lose another game as she streaked away to victory in an hour and 15 minutes.
"I don't think I did anything spectacular, but felt that I was consistent," said Sharapova. "I served smart at times. I returned quite well. I think that really helped me. I think I won the right points at the right time and ultimately won the match.